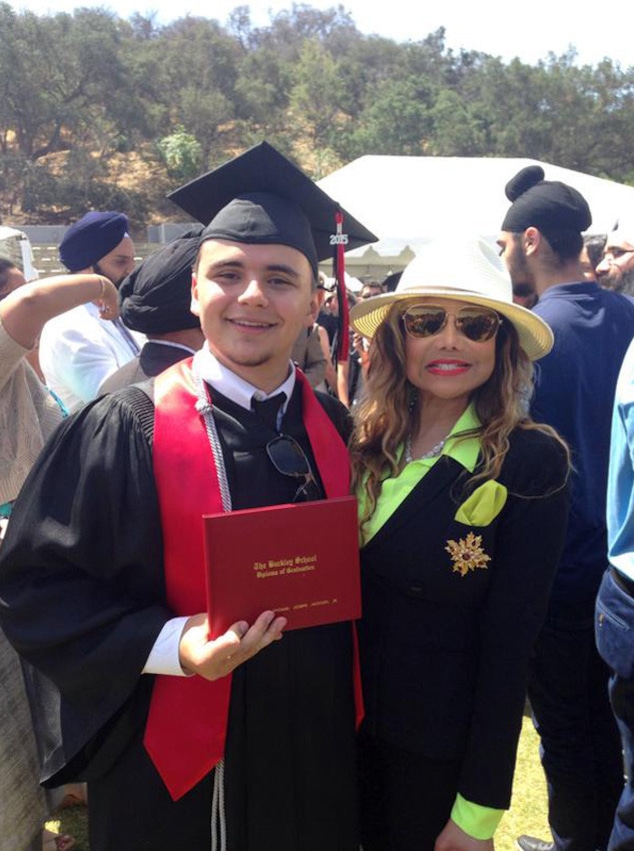 Twitter
Wearing a black cap and gown with a red sash, Michael Jackson's son Prince Jackson graduated high school this weekend with honors and was joined at the celebration by members of his famous family.
The 18-year-old is the eldest child of the late King of Pop. He and his 17-year-old sister, Paris Jackson, and 13-year-old brother, Blanket Jackson, were all homeschooled initially. After their father died in 2009 at age 50, they moved in with his mother, Katherine Jackson, now 85, near Los Angeles. A year later, Prince and Prince started attending the private Buckley School near their suburban home.
Prince's high school graduation ceremony took place on Saturday. Hus aunt LaToya Jackson, 59, tweeted a sweet pic of the two.
"So very proud of @princemjjjaxon," she wrote. "YOU DID! And you did it with Honors!!! #buckleyclassof2015."
Cousin T.J. Jackson, 36, a member of the R&B and pop trio 3T and was made a co-guardian of Michael's children in 2012, posted an Instagram photo of himself with Prince, holding his diploma, at the ceremony.
"Prince, you have grown into an incredibly special young man," he said. "Words can't express how proud I am of you. I will ALWAYS be here to support you wherever life takes you. I love you!"
ABC News reported in 2010 that after Prince and Paris were enrolled at the Buckley School, they were accompanied by bodyguards who waited for them outside their classrooms and followed them around the campus.
Michael had also attended the Buckley School, along with his siblings, the outlet said. The singer and his siblings also had a private tutor who traveled when them on their Jackson 5 tours. 
Katherine and Paris, who recently made her red carpet debut with her boyfriend Chester Castellaw at an opening of a local production of Spring Awakening, also attended Prince's graduation
Michael's daughter was seen giving her brother a big hug, Us Weekly reported.
So what's next for Prince? College. And he's staying local. The teen said in April that he has chosen to attend Loyola Marymount University in Los Angeles, adding that it was a toss-up between that school and USC.
"I'm following what felt right for me, my family," he tweeted. "Since 1st visit, the campus felt like home for my next 4 years. #LMU19."
—Reporting by Holly Passalaqua