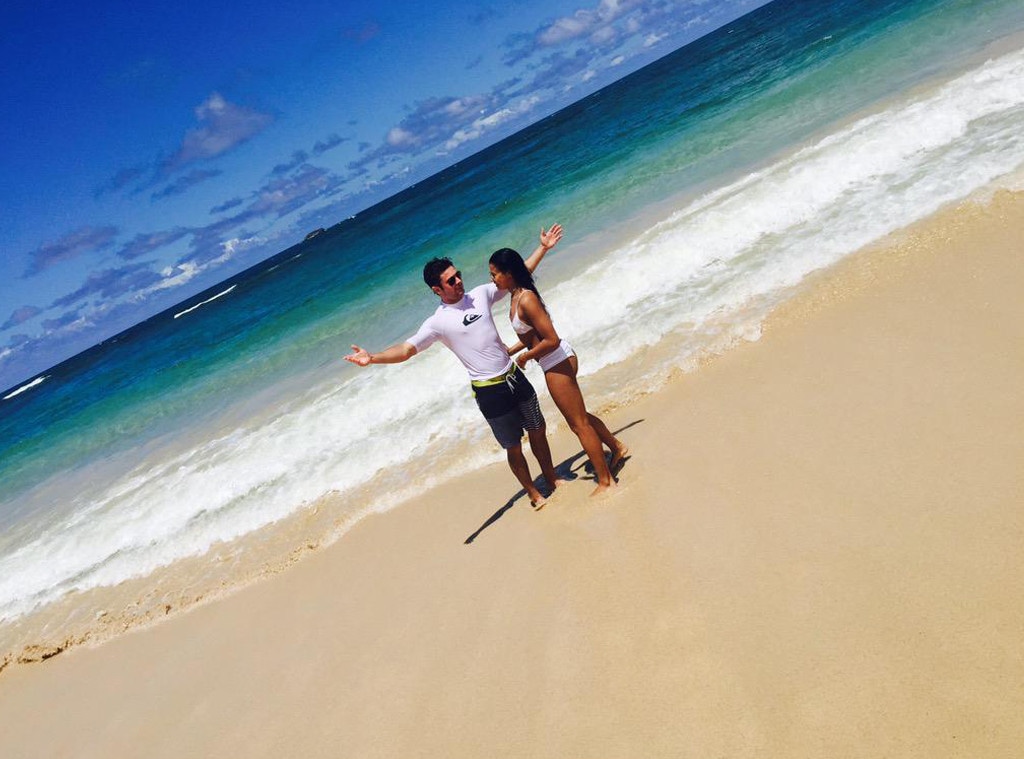 Twitter
Reunited and it feels (and looks) so good!
It seems like forever since we've last seen Zac Efron and Sami Miró together. But lo and behold, our weekend just got brighter after the hunky actor shared a photo from the beach with what we can only assume is his leading lady.
With the sun shining bright, the High School Musical alum spread his arms open for an embrace as Miró leaned in closer.
"I'm like hey what's up hello," Efron tweeted with the picture-perfect photo. But wait a second, something appears to be missing here. Oh yes, the 27-year-old didn't go shirtless for his beach day! 
Ladies, we wish we had a reason for the not-so-revealing photo. Instead, we'll have to enjoy a Quicksilver rash guard and board shorts combined with Miró's white two-piece bikini.
For the past several weeks, Efron has been hard at work in Hawaii filming Mike and Dave Need Wedding Dates, his upcoming film with Adam DeVine and Anna Kendrick.
When not filming or enjoying the ocean blue waters, the actor has also found time to hike in his Vision Street Wear sneakers and practice his golf skills. "Workin on that Tiger game," he tweeted Friday afternoon on the golf course. And yes, he was wearing a shirt yet again admirers.
Game play aside, Efron and Miró appear to be going strong as they enter the summer season. During a recent karaoke night in Los Angeles, the pair displayed plenty of PDA while singing songs with friends.
"They were lovey all night, kissing, holding hands," an eyewitness shared with E! News. "He seemed to be in really good spirits."
Let the love continue in the Aloha state!