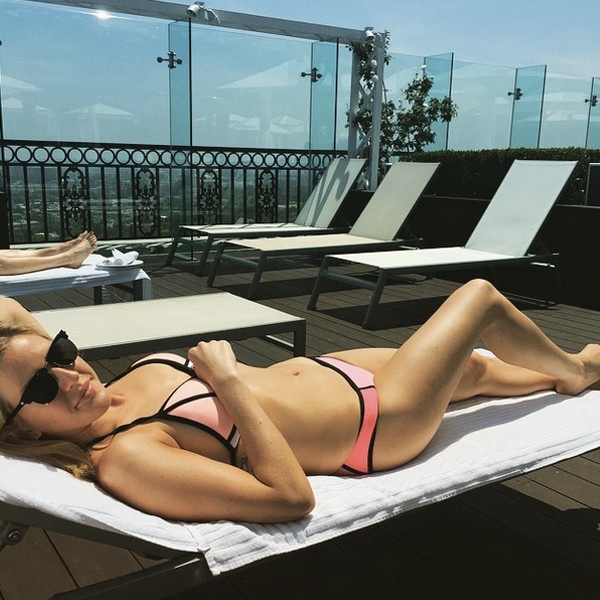 Instagram
Ellie Goulding's got the fire, fire, fire!
Memorial Day has come and gone meaning it's totally time to break out the bikinis. Luckily, the "Love Me Like You Do" singer totally got the memo when she kicked off this weekend in the sun.
While sunbathing on a high-rise roof, Goulding couldn't help but show off her impressive figure on Instagram. Without any words as her caption, the singer clearly let her photo do all the talking while wearing a pink TRIANGL bikini.
So how did she get such a great body just in time for summer? As you can expect, it took some serious hard work.
In between traveling around the world to perform at festivals, Goulding has been working on her fitness (and tan) in sunny Southern California. "Sun deprived Brits doing runyan be like," she captioned on Instagram Saturday while hiking near the popular Hollywood canyon. 
She's also been watching her diet that now includes food and drinks from Beaming.
"My training is part of my life," she recently shared with Self magazine. "It's something I need to do every day, because it affects my mood, my fitness, even my mind-set onstage."
From boxing and martial arts to Barry's Bootcamp and gymnastics, the 28-year-old is down to try anything. If she had a preference, however, it would definitely be yoga.
"I get the biggest high when I do yoga," she revealed to the publication. "People don't realize that there's such an incredible drug in life that doesn't involve any substance."
If it will get us looking this good over the summer, all we have to say is Namaste all day, every day!