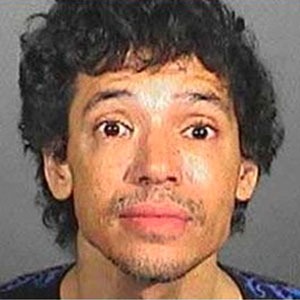 L.A. County Police Department
El DeBarge will be feeling the rhythm of the night all right—in a jail cell.
A Los Angeles judge has sentenced the '80s hitmaker to two years in state prison for a drug bust earlier this month.
DeBarge (born Eldra Patrick DeBarge), whose hit "Who's Johnny" video featured him in a courtroom, appeared in the real deal Tuesday to learn his fate for getting caught with crack cocaine.
Jane Robison, spokeswoman for the Los Angeles County District Attorney's Office, told E! News that because DeBarge was still on probation for a 2001 cocaine bust, not to mention a series of warrants over the past year for domestic violence, vandalism and drugs, the judge threw the book at the fallen pop star.
Watch the "Who's Johnny" video
He was ordered immediately transferred to California State Prison at Lancaster, which will be his home through 2010.
And things could get worse.
Robison said the entertainer also has a separate case winding its way through court for violating his probation in connection with a 2006 drug bust for possession of a controlled substance. A hearing in that matter is set for Nov. 10.
A rep for the singer was not available for comment.
The 47-year-old crooner formed DeBarge in 1978 with four of his brothers and became one of the last big Motown acts on the strength of such R&B hits as "Love Me in a Special Way," "Time Will Reveal" and "Rhythm of the Night." El left DeBarge in 1986 and launched a solo career, which subsequently floundered in the early '90s.