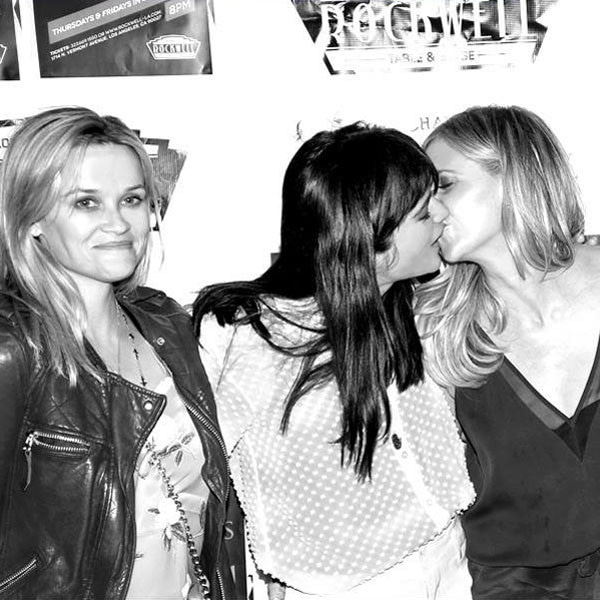 Brad Everett Young
Sarah Michelle Gellar, Selma Blair and Reese Witherspoon's Cruel Intentions reunion looks like it really was the "best girls' night of the year!!"
While watching The Unauthorized Musical Parody Of Cruel Intentions at Rockwell: Table & Stage in L.A., the trio reminisced on old times, but that wasn't all: Sarah Michelle and Selma even recreated their iconic kiss from the 1999 teen movie!
It's been 16 years since Cruel Intentions hit theaters, but as you can see from this pic (taken by Brad Everett Young and posted to his Instagram), both ladies are still up for a smooch!
The ladies first locked lips onscreen when Sarah Michelle's character Kathryn taught Selma's character Cecile how to kiss! It was a memorable movie moment, to say the least (isn't where most millennials learned where "first base" truly is?)—and last night wasn't the first time the Cruel Intentions co-stars have recreated that scene...
When Sarah Michelle, now 38, and Selma, 42, won the MTV Movie Award for Best Kiss back in 2000 (!), the twosome gave each other a coy peck onstage, much to the audience's delight.
Fast forward to 2014, though, when Sarah Michelle revealed to KIIS-FM radio hosts Kylie and Jackie O that she still counts Selma as her best onscreen kiss ever (and she's kissed hubby Freddie Prinze Jr. on film, too)!
Frank Micelotta/Getty Images
Selma has fond memories of the makeout sesh, too. "She's always my favorite kiss," the mother of one told a TMZ cameraman last year. "I love Sarah!"
She even joked the longtime pals are "still practicing—every weekend!"
Hey, practice makes perfect...