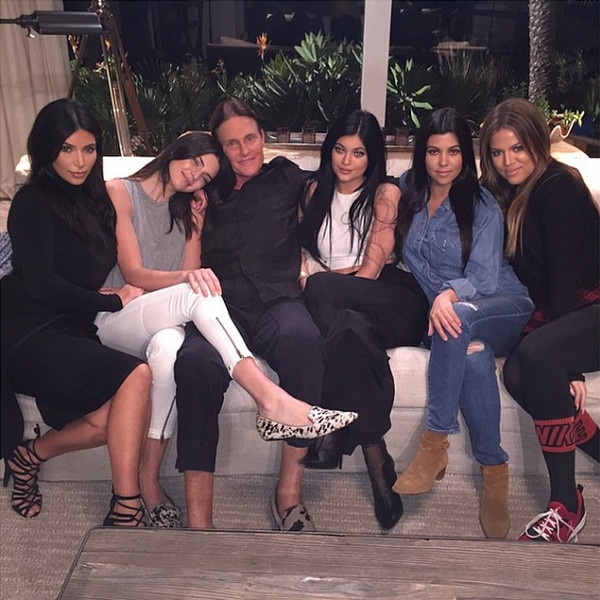 Instagram
Bruce Jenner is just like you: the Olympian watched Transparent and was moved by the Amazon series starring Jeffrey Tambor.
Transparent creator Jill Soloway said she learned Bruce and the Kardashian family watched the series when she met Kim Kardashian. On top of that, she said they "loved it."
"Knowing that Transparent helped Bruce to see a family where somebody came out and everybody survived, my first phone call was to my parent to say, 'Look what your bravery did. Your bravery allowed me to tell this story. And this story allowed this person to come out. This person who is an American hero, and who is now an American hero for the second time. And who happens to be the patriarch of the most famous family on the planet,'" Soloway told People.
In Transparent, Tambor plays Maura, a transgender woman who comes out late in life. Judith Light plays his ex-wife. The series also stars Gaby Hoffmann, Amy Landecker, Jay Duplass, Alexandra Billings, Melora Hardin, Rob Huebel and Kathryn Hahn. Tambor and the series took home Golden Globes in January. Amazon has already renewed the show for a second season.
Soloway thanked her own trans parent while accepting the Golden Globe for Best Comedy Series.
"This award is dedicated to the memory of Leelah Alcorn and too many trans people who die too young," she said. "And it's dedicated to you, my trans parent, my moppa. You're watching at home right now. I just want to thank you for coming out because in doing so you made a break for freedom, you told your truth, you taught me how to tell my truth and make this show. And maybe we're going to be able to teach the world something about authenticity and truth and love. To love."
Jenner came out as transgender in an interview with Diane Sawyer. The family's reaction was chronicled in E!'s Keeping Up With the Kardashians: About Bruce specials and his journey continues in a new eight-part documentary series premiering on Sunday, July 26 at 9p.m.
"Bruce is incredibly courageous and an inspiration, and we are proud to be entrusted with this deeply personal and important story," Jeff Olde, executive vice president of programming and development at E!, said in a statement. "This series will present an unfiltered look as Bruce boldly steps into uncharted territory and is true to himself for the first time."
Learn more about what it means to be transgender from GLAAD. If someone you love is transgender, contact PFLAG.
The mid-season finale of Keeping Up With the Kardashians airs Sunday, May 31 at 9 p.m. only on E!