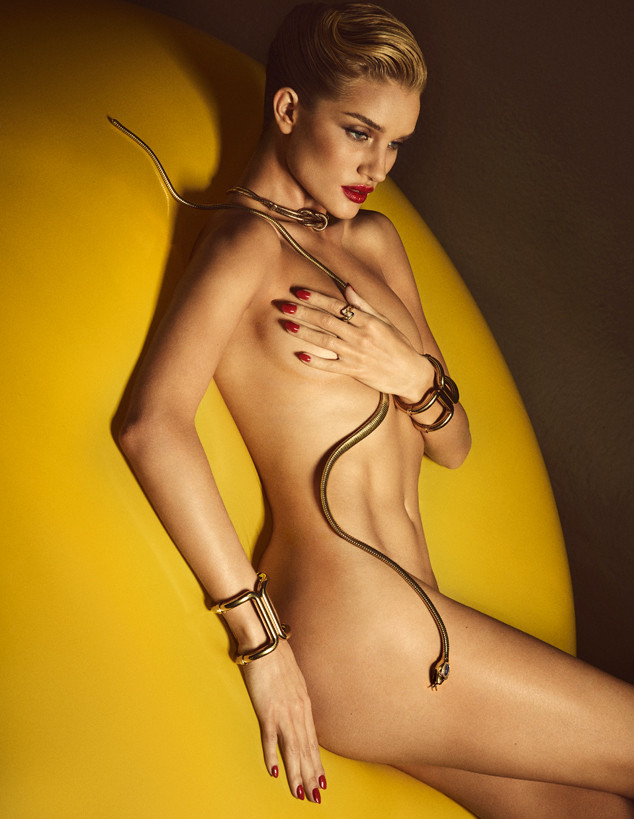 Luigi and Iango/LUI
Rosie Huntington-Whiteley strips down to her birthday suit for Lui magazine, and appears totally comfortable with her co-star for the provocative shoot: a snake.
The stunning Brit hardly looks concerned over the fact that the slithery reptile has made its way near her nether regions, and maintains her perfect pout for the saucy photo. OK, you got us, the snake doesn't look that real—but the freak-out factor is definitely still there.
Luckily for the 28-year-old, the critter doesn't appear in all of the photos, but skin (and Huntington-Whiteley's killer figure) is heavily featured throughout.
Between the sexy cut-out bathing suits, and the close-up shot of her impossibly perfect derriere, Jason Statham's leading lady is serving up all kinds of summer fitspiration.
And as if the photo shoot wasn't enough, just last week Huntington-Whiteley showed fans how she whips herself into tip-top shape with an Instagram video of her gym routine with her personal trainer.