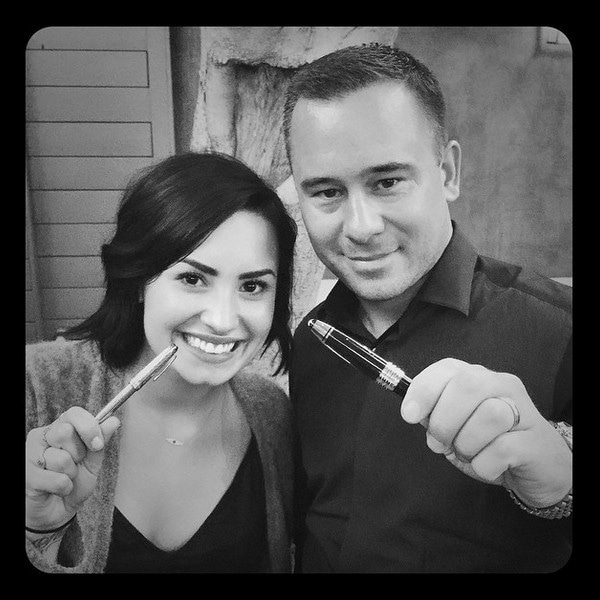 Instagram
Demi Lovato announced this week that she and Nick Jonas are starting their own record label and with her big reveal came an emotional, heartwarming post about her manager, who she says saved her life when she was battling drug and alcohol addictions.
The 22-year-old "Heart Attack" singer had celebrated three years of sobriety in March and thanked her boyfriend, That '70s Show alum Wilmer Valderrama, for supporting her throughout her recovery, saying she "wouldn't be alive" without him. She echoed similar comments in an Instagram post on Tuesday.
Lovato had that day announced that she and Jonas, 22, who is concentrating on a solo career, and their manager, Phil McIntyre, had partnered with Island Records to launch their own label, Safehouse Records. Lovato used to tour with the Jonas Brothers and starred with them in the Disney Channel Camp Rock movies before the group's 2013 split.
"This man not only believed in me when I was 15 and made my entire career happen, but he fought so f--king hard to get me sober," Lovato wrote about her manager, alongside a photo of the two. "When so many others had given up on me, he never did. He told me he cared too much about me to watch me self-destruct...Therefore at the very end of my drinking and using he gave me one last chance...Get sober and he'll stay, or he'd have to leave."
She said that he "stood his ground and said, 'If you do this I will fight this battle with you every step of the way.'"
"He is one of the very few people who LITERALLY saved. my. life," Lovato continued. "I don't think I'd be alive without him for many different reasons."
Lovato battled alcohol and cocaine addictions in the past and has also struggled with body image issues and an eating disorder. In 2010, at age 18, she spent time in rehab, where she was treated "for emotional and physical issues."
On Instagram, Lovato also gave a shout-out to Walt Disney Music Group's president, Ken Bunt, and head of creative, Mio Vukovic. The singer had previously released music through the company-owned Hollywood Records and plans to release her fifth studio album via a creative partnership between all three companies.
"Thank you for continually taking care of me as an artist, but most importantly, a person," she wrote. "Who supports not only my music but sobriety and who were there at my party to celebrate my first year sober. That meant so much to me."