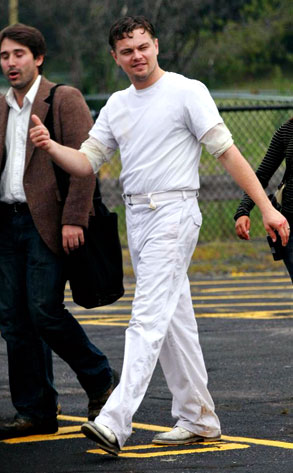 FAME Pictures
UPDATE: And...he shoots, he scores. More than a year after reaching a tentative agreement, DiCaprio and his neighbors finalized the terms of their settlement and a judge has dismissed the case.
_________________________________
Leonardo DiCaprio's settlement process has hit a snag.
A deal reached in June to settle a property dispute between the actor and a couple who live next door to him in the Hollywood Hills is still not resolved.
"We're still talking and hope to have the kinks worked out," David Glubok, who reps plaintiffs Ronald and Joan Linclau, who claimed that a basketball court that DiCaprio installed undermined a slope in their backyard.
They sued the Body of Lies star for negligence, trespass and nuisance, after which DiCaprio filed a cross-complaint against the contractors who handled the court job, asking that they be forced to foot the bill for any damages the Linclaus might win from him. Then the contractors started suing each other.
Another hearing has been set for December. "Hopefully we'll have it signed, sealed and delivered by then," Glubok said.
(Originally published Oct. 25, 2008, at 4:25 p.m. PT)