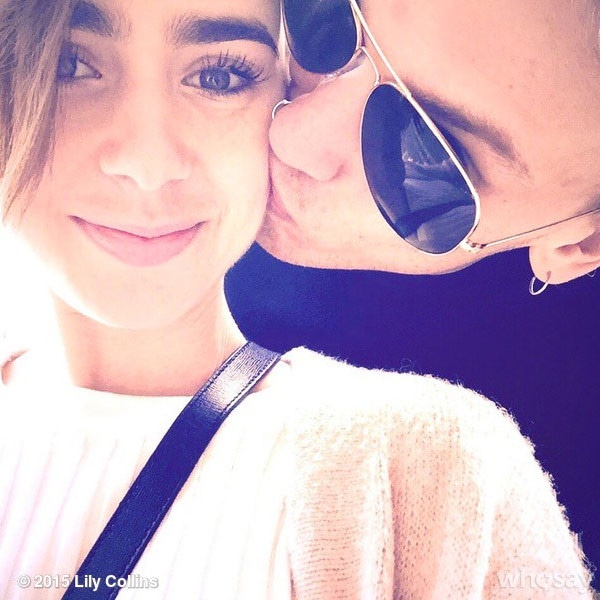 2015 Lily Collins/WhoSay
It's official: Lily Collins and Jamie Campbell Bower are back together!
The actress hinted at the reconciliation via Instagram and WhoSay Sunday. She posted two pictures with her ex-boyfriend, writing, "Sometimes it just is what it is... And what it is, is something quite beautiful..." E! News reached out to their reps to comment on their rekindled relationship but received no immediate response.
Instead, Collins confirmed the romance herself Wednesday.
Taking to Instagram and WhoSay yet again, the actress shared a photo of Campbell Bower kissing her cheek. "Happy is what happy does. 50 shades of blush #cloud9ispinkright?..." she wrote in the caption. In the second photo, Collins and Campbell Bower shared a kiss on the lips. "Life works in mysterious ways but when you find your inner glow is back and shining brighter, you know it's right..."
So, how did the 26-year-old actors find their way back to each other? "They hung out. She saw his show in London," a source tells E! News. "[They're] having fun."
The couple broke up in 2013 just before the release of their movie, Mortal Instruments: City of Bones. Like true professionals, they didn't let their breakup affect their promotional commitments. "We're tight," Bower assured E! News at the film's premiere in L.A. "Lily and I are very, very close. Very close. Always have been, always will be." Collins, meanwhile, said that her ex-boyfriend was "awesome."
In the years post-split, Collins was linked to Thomas Cocquerel, Zac Efron and Chris Evans; she was also falsely attached to Josh Hutcherson.
Campbell Bower, meanwhile, dated a model named Matilda Lowther.
Perhaps Collins and Campbell Bower will have more luck this time around. As she told Glamour U.K. in 2013, they were drawn to each other from the moment they became co-stars. "People are cast because they have chemistry. You're spending 24-hour days together and it's intense…plus you really get to know the best and worst sides of people—the rawest sides of people," the Love, Rosie actress explained at the time. "You're perfect for the role because you have that connection with each other and sometimes that translates into more."