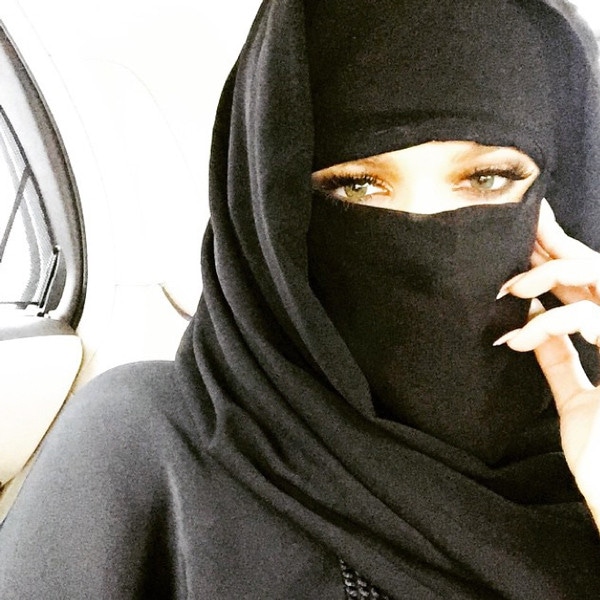 Instagram
Khloé Kardashian is going traditional when it comes to her latest fashion.
The E! star took a quick trip to Dubai to make an appearance over the last few days, and while there, she shared a photo with fans of herself donning the traditional niqab, a loose garment that covers the head and face with only the eyes being shown (by the way, Khlo's eyes look absolutely gorgeous).
Most women in the Middle East dress this way according to their religious and cultural beliefs, and although those who visit the country are not required to participate, Khloé decided to wear it as well.
And it stirred up a bit of controversy on the Gram.
The snapshot, captioned "Habibi love," drew some backlash from fans who weren't happy with the celeb wearing the niqab.
"This is disgustingly offensive," one user wrote, while another commented, "This woman should not be the role model of anyone especially not for Muslim women." One IG user also stated, "She's disregarding a cultural/religious symbol by appealing to her own commercial interest."
However, it didn't take long for others to come to Khloé's defense.
"i am from dubai :) and i know that she doesn't have to wear it and we emiraties wear it our selves in a way to make it look fashionable :) plus im a local here and i dont feel offended," a user explained. Another person wrote, "Its not offensive she is just showing respect. And looking great doing it."
Khloé hasn't commented on the controversy, and instead, continued posting to Instagram in honor of Scott Disick's birthday and a cryptic quote about a broken heart.

Tune-in to the mid-season finale of Keeping Up with The Kardashians this Sunday at 9 p.m. on E!