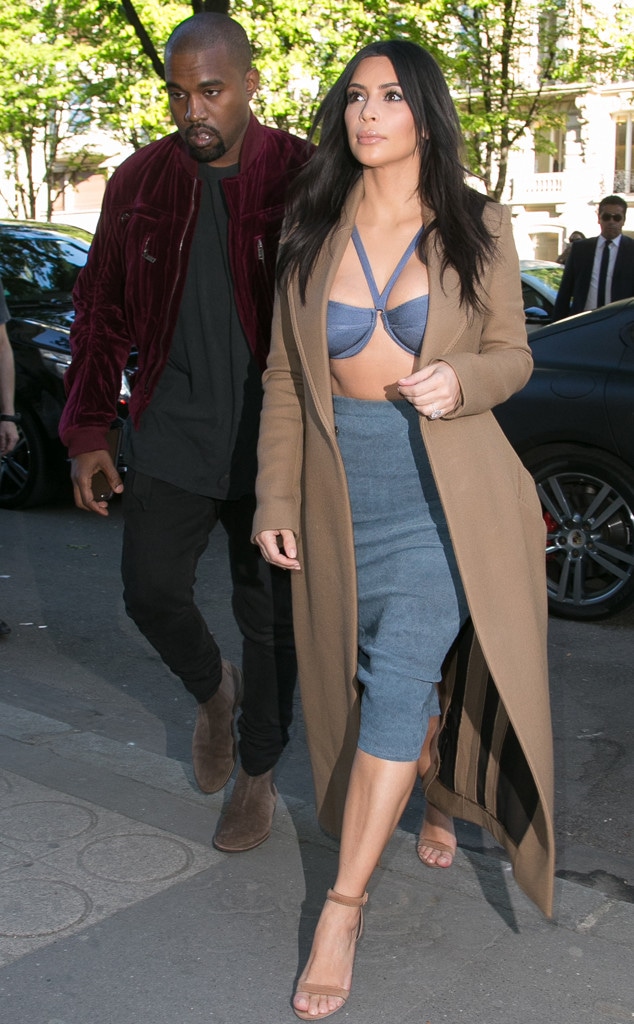 Marc Piasecki/GC Images
Kim Kardashian recently recalled how Kanye West, her husband and live-in stylist, made her cry. Over shoes.
The 37-year-old rapper, father of their toddler daughter North West, is also a fashion designer. Kim, 34, made her comments in an interview on Live With Kelly and Michael that aired on Monday, Memorial Day, a day after the couple's first wedding anniversary and also talked about the style advice he gives her.
On a 2012 episode of Keeping Up With the Kardashians, Kanye and a stylist, Renelou Pandora, are shown giving Kim's closet a makeover, removing clothing, shoes and handbags (and at one point, she holds up a purse and tells her then-boyfriend, "Shouldn't I just keep this for like my daughter one day?") But mainly...shoes.
"It was like a pile to the ceiling, of shoes" Kim said on Live With Kelly and Michael. "And all my amazing shoes that I loved. And I started crying. I was like, 'I can't get rid of this stuff. Your stylist has no idea what she's talking about.' So I put it all in another room and I was like, 'I'll trust your opinion but I'm not getting rid of my stuff."
On the episode, Kim and sister Khloé Kardashian, 30, are seen looking at the shoes Kanye and the stylist nixed.
"You know I love these," Khloé says.
"I know," Kim replies. "He said they are so ghetto."
"You've gotta have a little ghetto in your life," her sister says.
She said she eventually did get rid of most of her old stuff and that her style has "evolved and changed."
"Does Kanye want to come to my house?" co-host Kelly Ripa replied.
"I mean, I'm sitting here, thinking to myself, I need to marry Kanye," co-host Michael Strahan joked.
Kanye had most of Kim's clothes and shoes removed from the closet.
"And then I walked in my room and there was an entire room filled with all new clothes...the stuff he wanted to fill back up, my closet with," Kim said on Live With Kelly and Michael. "And it was like really cool, new designer stuff that I, you know, hadn't even heard of some of these designers before and it really helped me fall in love with fashion."
On the show, the reality star wore appeared to be cleavage-baring black collared dress and her hair pulled in a ponytail.
"He totally picks out my looks," Kim said about Kanye. "I had on this white Balmain pantsuit and he was like, 'No no no, I think you just be a little bit more simple today' and totally changed my outfit right before I was walking out."
"And he was right. I wasn't thinking about...that I was going to be sitting and it was a little, you know, too revealing," she added. "I really do trust his opinion."
Kim said Kanye also told her he loves when she wears her hair down.
"I was like, 'No no no, ponytail,'" she added. "You don't get that much...you only get one thing, outfit or glam."
Watch Keeping Up With the Kardashians, Sundays at 9/8c on E!