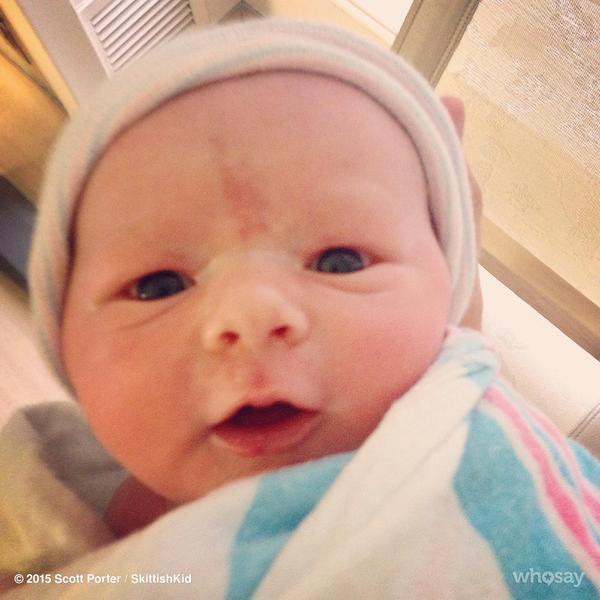 WhoSay
Congratulations are in order for Scott Porter!
The Friday Night Lights and Hart of Dixie alum welcomed his first son with wife Kelsey Mayfield Saturday evening.
"After a 44 Hour odyssey, #HousePorter has a new heir!" he shared on Twitter. "Mommy and baby boy are both healthy and resting! Thank you all for the positive light!"
He would later share the first photo of baby McCoy Lee Porter who was born at 8 lbs., 5 oz. and 20.5 inches long. "#ReadyForMyCloseUp," Scott wrote with a clear view of his baby's face. "#BabyBoyMcCoy."
Eric Charbonneau/Invision for Warner Bros./AP Images
News of the couple's pregnancy first broke in February after they attended the Jupiter Ascending premiere in Hollywood to support their friends Channing Tatum and Mila Kunis. One couldn't help but notice a visible baby bump as they posed for pictures on the red carpet together. 
The pair first met on the set of Friday Night Lights in 2008 and got married five years later in Austin, Texas. While they tried to keep a low profile during their journey to parenthood, once the labor began over Memorial Day weekend, Porter just had to document the journey.
"And…it's go time," he shared with fans beginning Friday evening. "30 hours in. My wife is a Gladiator in the ring! I am astounded by her fight. A long road to go, no meds at all. Prayers for strength!"
As the Dillon Panthers would like to say: "Clear eyes, full hearts, can't lose!" Congratulations you two on your special delivery.