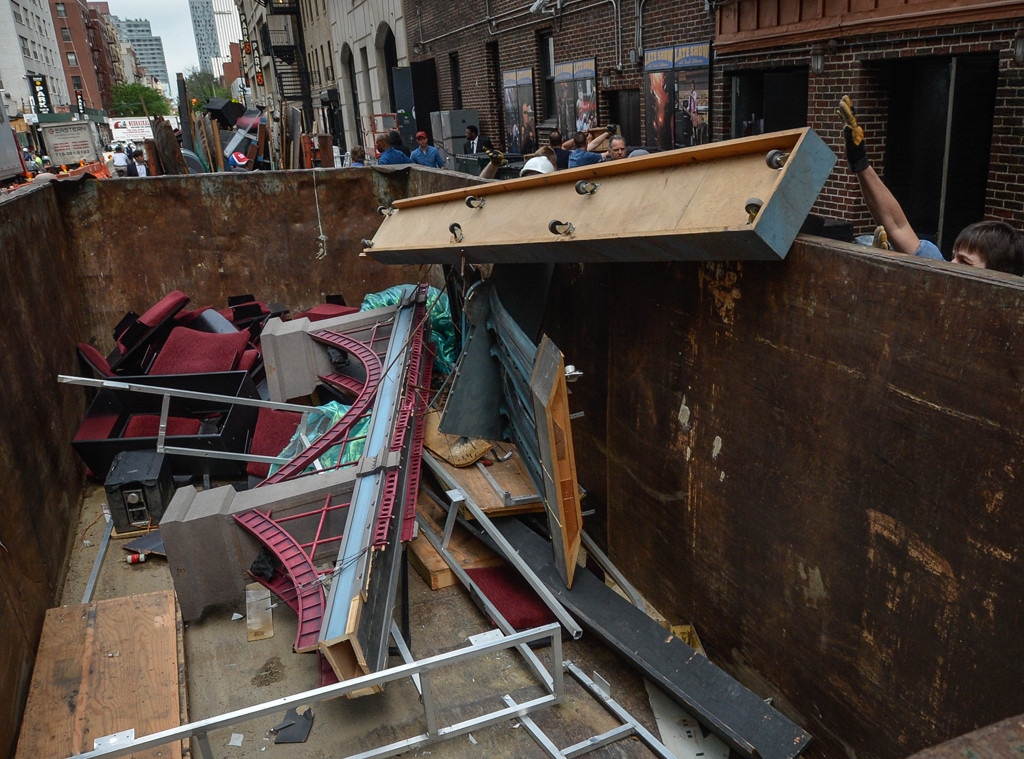 Anthony DelMundo/New York Daily News via Getty Images
So much for the Smithsonian.
What used to be the set of the Late Show With David Letterman ended up in an unceremonious final resting place—a massive dumpster set up outside the Ed Sullivan Theatre.
David Letterman bid farewell to late night on Wednesday night and, after a two-pronged after-party at the Museum of Modern Art and a nearby Irish pub, Late Show staffers were due back Thursday morning at 8 a.m. to clean out their offices. Within hours, the entire set had been dismantled and the now-unnecessary wood and other materials were chucked into the bin.
Anthony DelMundo/New York Daily News via Getty Images
Even the gutted theater looked as if it had been hacked to pieces!
Jeffrey R. Staab/CBS via Getty Images
"Show Business. They don't waste much time," executive producer Rob Burnett noted wryly on Instagram.
So it appears that the butts belonging to the Late Night With Stephen Colbert audience will be sitting in brand-new seats.
Of course, CBS probably figured that the rebuilding process can't start quickly enough to enusre that everything is ready (not to mention as shiny and new as possible) for incoming host Stephen Colbert and his staff, many of them carryovers from The Colbert Report.
The Late Show With Stephen Colbert is slated to premiere Sept. 8 and that is going to be incredibly exciting when it happens. But though the ruins of Letterman's set were dispensed with in decidedly unsentimental fashion, we're choosing to not quite accept that his tenure is over.
If you need us, we may be off somewhere rummaging in a dumpster.