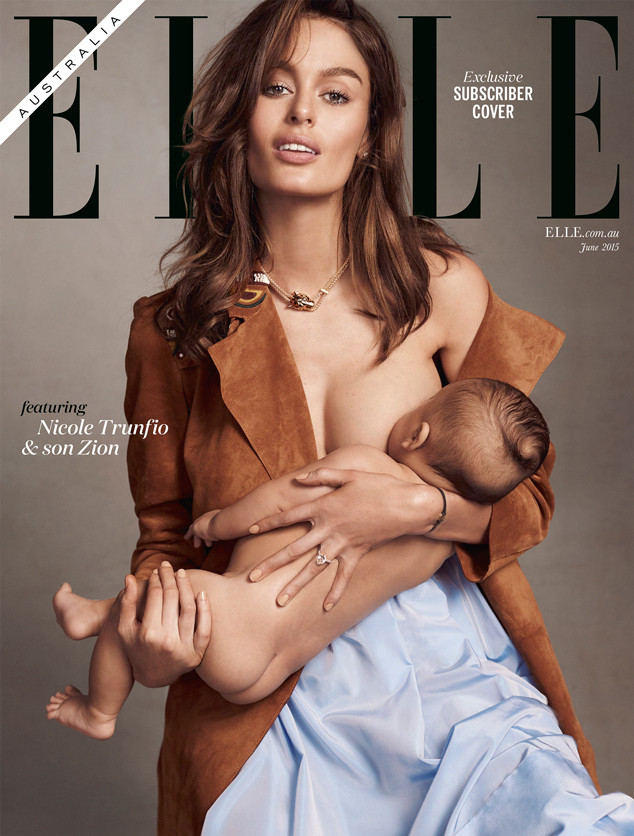 Elle Australia
This isn't your ordinary magazine cover.
Supermodel Nicole Trunfino stuns on the cover of Elle Australia's June issue, but along with sharing her ridiculously good looks, she took things a step further by taking what some deem a very controversial image and showed that it is nothing but a sight of beauty and love by posing for the mag's first-ever breastfeeding cover.
"This wasn't a contrived situation: Zion needed a feed, Nicole gave it to him, and when we saw how beautiful they looked we simply moved her onto the set," editor-in-chief Justine Cullen said. "It was a completely natural moment that resulted in a powerful picture."
Trunfino reposted the cover on her personal Instagram and explained how she hopes the photo will normalize breastfeeding.
"There is nothing more powerful and beautiful than motherhood. The last thing I want to do is be controversial, so please take this for what it is, let us #normalizebreastfeeding there is nothing worse than a mother that is judged for feeding her hungry child in public," she writes.
"#weareonlyhuman I'm so proud of this cover and for what it's stands for. I obviously don't look like this while I am breastfeeding but this stands for all women out there, whether you breastfeed or not, we gave birth, we are women, we are mothers. Thank you to ELLE for being so bold and making such an encouraging, positive and healthy statement. #womenunit."
Zion is Trunfio's first child with fiancé and Grammy winner Gary Clark Jr.
"When I saw the [subscriber] cover of me breastfeeding, which was unplanned and just natural, I teared up and thought, 'Wow this is such a special moment where my worlds have collided'," Trunfio told the mag of her reaction to seeing the breastfeeding cover.
The June issue of Elle Australia is on sale from Monday.