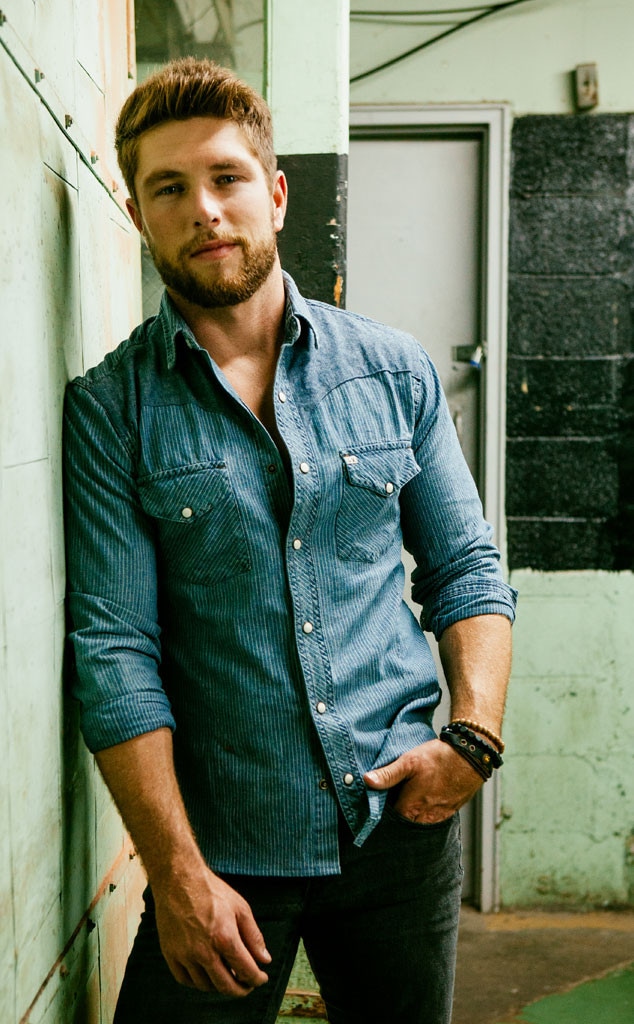 Big Loud Mountain/Kristin Barlowe
If you were lucky enough to see Florida Georgia Line on their This is How We Roll Summer Series 2014, then you may have already heard of the newest country heartthrob to hit the airwaves: Chris Lane. This North Carolina native not only has toured with FGL, but also has opened for The Band Perry, Brett Eldredge, Lee Brice and Chris Young, among others. And he has some big news: He is one of the top five contestants for the Macy's iHeartRadio Rising Star Contest!
Lane is the only country artist to make the finals. "It's certainly a relief that all of the hard work I put in along the way has been paying off," he tells E!. "I don't think a country artist has ever won [the iHeartRadio Rising Star Contest], so that would be huge!"
Growing up, Chris and his twin brother Cory, who now plays drums in his band, had never envisioned music as their future. "Music was something that nobody in my family does. All me and my brother knew was sports—music was never something I ever really thought of."
Lane's first passion was baseball. He was on the road to playing professionally after college, but two ACL surgeries later, his dreams of baseball were derailed and he turned his attention to music.
So what got Chris in to music? Keith Urban! "After going to a few Keith Urban concerts, I thought, 'I'd really like to learn how to play guitar.' I studied Keith Urban a lot and how he performed." Lane asked his parents for a guitar that year, and the rest is history in the making.
Since being on the road with Florida Georgia Line, Lane has transitioned from playing baseball in the stadium to playing for stadiums full of fans. "Those guys have been amazing to me," he said of FGL. "Taking me out on their tour while I am so new. They have taken care of me all the way and I have learned a lot being on tour with them."
The band even gave him an Instagram shout-out, encouraging fans to cast their votes to make Chris the next iHeartRadio Rising Star!
Now, we know what you're thinking: Is this hottie single? He is! But don't get excited just yet. Chris says, "I've been a very picky individual all my life and right now I am very concentrated on my career." He does have faith though, that when the time is right, he will meet that special person, so not all hope is lost!
Chris is now signed with Big Loud Mountain and is working on his first EP with acclaimed producer Joey Moi, who has produced for Florida Georgia Line and Jake Owen. Lane says he plans to release his first album this summer, and we can't wait.