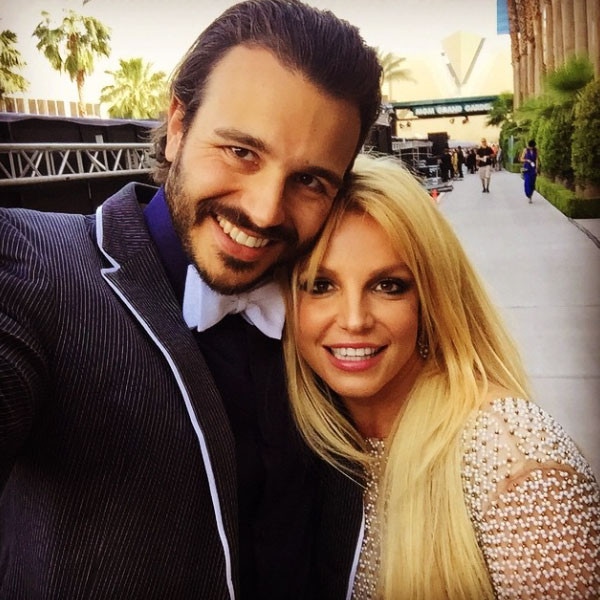 Instagram
The cutest couple award goes to Britney Spears and Charlie Ebersol!
The happy duo made their red carpet debut at the 2015 Billboard Music Awards Sunday and couldn't have looked any better! Ebersol glowed as he cozied up to his "Pretty Girls"-crooning girlfriend in a pic he uploaded to Instagram. "Let's all agree @britneyspears Is the most beautiful #americanselfie Please post your own and tag it to raise money for vets!!!," he captioned the pic.
Ebersol has been posting selfies on the picture-sharing platform to raise money for veterans thanks to Macy's donations. While on the way to Las Vegas to see Britney's show, he posted another pic and explained his #AmericanSelfie movement. "Macys is giving 1 dollar to my favorite charity @gotyour6 for everyone who posts a selfie with #americanselfie hashtag. Do your part and post one to support Veterans," he explained in the caption.
Denise Truscello/Getty Images
Even though he's incredibly supportive of Britney, the "I Wanna Go" singer told Extra that she is the one who feels lucky to have Charlie. "I'm very blessed to have him a part of my life," she said.
The pop star loves her man so much she even has a special vest she wears in concert that reads "I Love Charlie."
"He's like, 'You're the sweetest girlfriend in the whole world.' He was really happy that I did that. It's kinda cool," Spears said of her namesake costume piece. But will these two tie the knot anytime soon? It's not out of the question!
"You never know," she teased. "Who knows?"
Although she performs regularly during her Vegas residency, Sunday's awards show marked the first time she performed "Pretty Girls" with Iggy Azalea. The performance, which took the artists into outer space, proved that both singers still got the moves! Even better than that was the overwhelming support they must have received from Charlie and Nick Young.
Both couples walked the red carpet and looked so good together! Congratulations on an amazing performance!