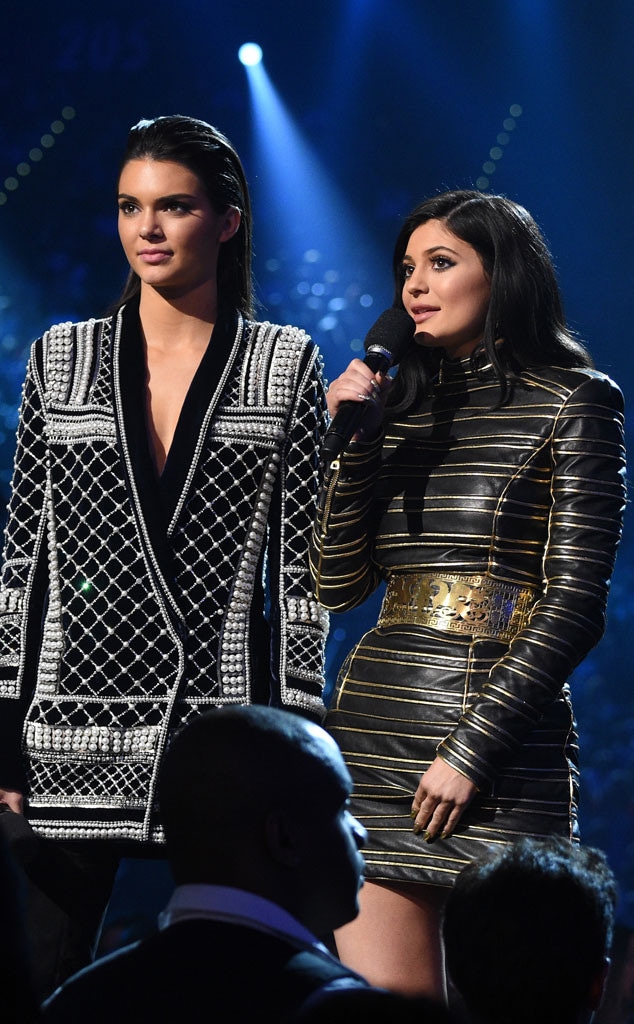 Larry Busacca/BMA2015/Getty Images for dcp
If you're part of the Kardashian crew, you know that sometimes, no matter what you do, haters gon' hate.
Kylie Jenner and Kendall Jenner experienced this negativity firsthand Sunday at the 2015 Billboard Awards when they introduced Kanye West. Kylie, 17, and Kendall, 19, only addressed the audience briefly, but during their short, joint speech, they were met with rude booing and jeers from the audience.
But Kim Kardashian's kid sisters weren't distracted and stuck to the script! "It's an honor to introduce this great artist: A friend, an inspiration, a brother and now, a doctor," Kylie said, with Kendall adding, "Ladies and gentlemen, please welcome Kanye West!"
Dr. West took the stage in typical flashy fashion, but the pyrotechnics produced so much smoke it nearly eclipsed the rapper himself. Still, Yeezus launched into an impassioned performance of "All Day" and "Black Skinhead," only, because 'Ye failed to censor himself, the network had to overcompensate, muting out large portions of his rap.
Kanye likely wasn't thrilled that viewers at home missed out on much of his message, but those inside MGM Grand Arena in Las Vegas got to experience the full 'Ye glory as he intended.
As for Kendall and Kylie? They weren't bothered by the boos—they had more important things to think about! Although they weren't home watching Part One of Keeping Up With the Kardashians: About Bruce, their dad and his journey was at the forefront of their minds.
(At this time, Bruce Jenner is choosing to not live publicly in the media as a woman and will be referred to as Bruce Jenner and with male pronouns until he specifies otherwise.)
"Honestly, I've never seen him happier," Kendall told E! News' Giuliana Rancic when asked about her father's decision to speak publicly about his transition. "That alone makes me so happy. To see him so happy and to see him going through this and staying so strong and really thinking about his kids is amazing."
Part Two of Keeping Up With the Kardashians: About Bruce airs Monday, May 18, at 9:00 p.m on E!