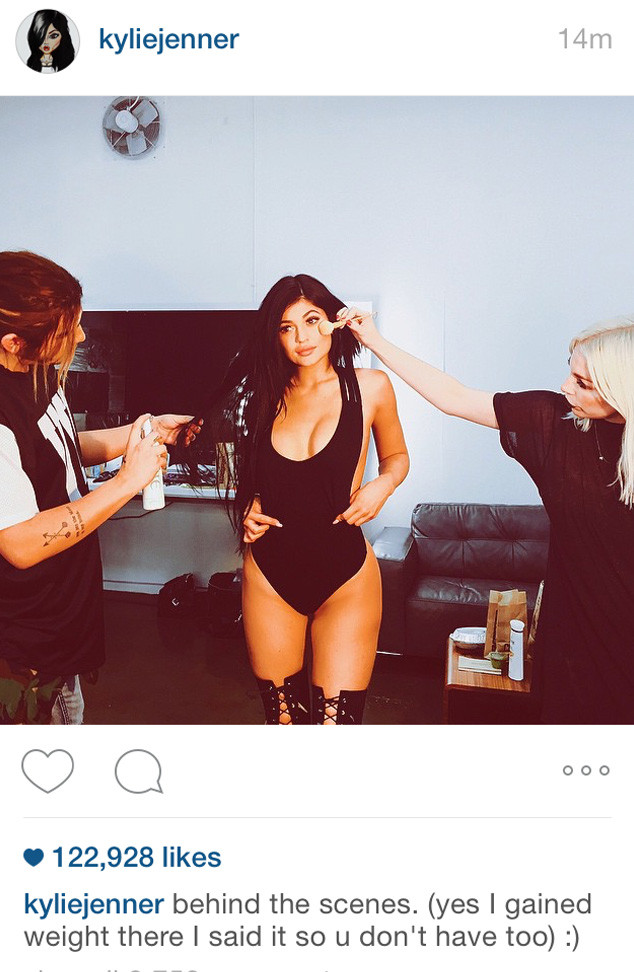 Instagram
Kylie Jenner isn't going to take any nonsense from haters or bullies.
The Keeping Up With the Kardashians star posted a behind-the-scenes picture to Instagram Saturday, where she decided to directly address any haters that would comment on her body. Dressed in a risqué black swimsuit and thigh-high lace-up boots, Kylie captioned the picture, "behind the scenes. (yes I gained weight there I said it so u don't have too) :)."
Although she looks her gorgeous and curvaceous self to us, Kylie must have changed her mind about being so candid because she later edited the caption to say only, "behind the scenes."
The 17-year-old E! star has never been afraid to show off her curves on social media, often posting scandalous selfies or racy pics from her photo shoots. She does, however, play it cool when it comes to admitting any work she may or may not have had in order to bolster some of her assets...such as her lips. Rumors were rampant regarding the reality TV star's plump pout, even sparking a "Kylie Jenner Lip Challenge" that ended poorly for many people.