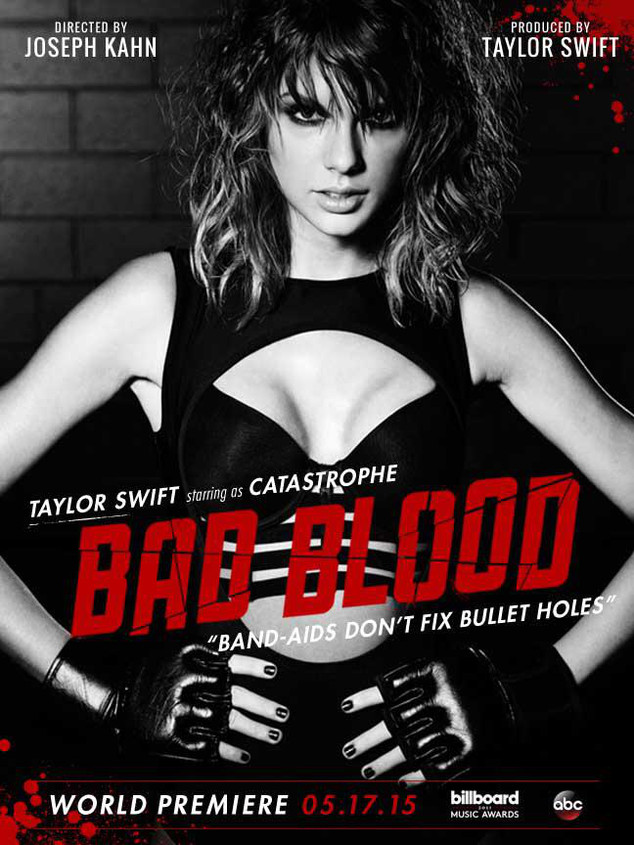 Instagram
It's finally here, you guys!!!
After teasing the star-studded cast with an array of scintillating posters for over a week, Taylor Swift's music video for "Bad Blood" is now ready for our viewing pleasure—thank goodness!
We could hardly keep our composure these past couple of days, what with all of the celebrity cameos that were leaked one by one, and now the masterpiece is here in all its dramatic glory.
Making its world debut at the 2015 Billboard Music Awards, T.Swift went all out for the highly anticipated music video, and we mean all out. Like, beyond.
There was ass kicking, gun toting, robot making futuristic girl power written all across the epic clip. Each celebrity had their own alter ago in the Joseph Kahn-directed clip, and the character posters echoed a bit of a Sin City-esque vibe with the red, black and white color scheme.
Swift has kept the details regarding the video's plot top secret, though she did tweet earlier, "Fun fact about #BadBloodMusicVideo: Each individual actor/actress chose their character's name and persona." 
And just a few days ago, the ever-growing list of famous faces slated to appear in Swift's video included (but wasn't limited to): Mariska Hargitay, Ellen Pompeo, Cara Delevingne, Lena Dunham, Jessica Alba, Karlie Kloss, Lily Aldridge, Zendaya, Ellie Goulding, Hailee Steinfeld, Gigi Hadid and much, much more.
"Band-aids don't fix bullet holes," the tagline reads, which, of course, is an allusion to the song's lyrics.
So…what did you think about the video after all? Tell us in the comments section below!