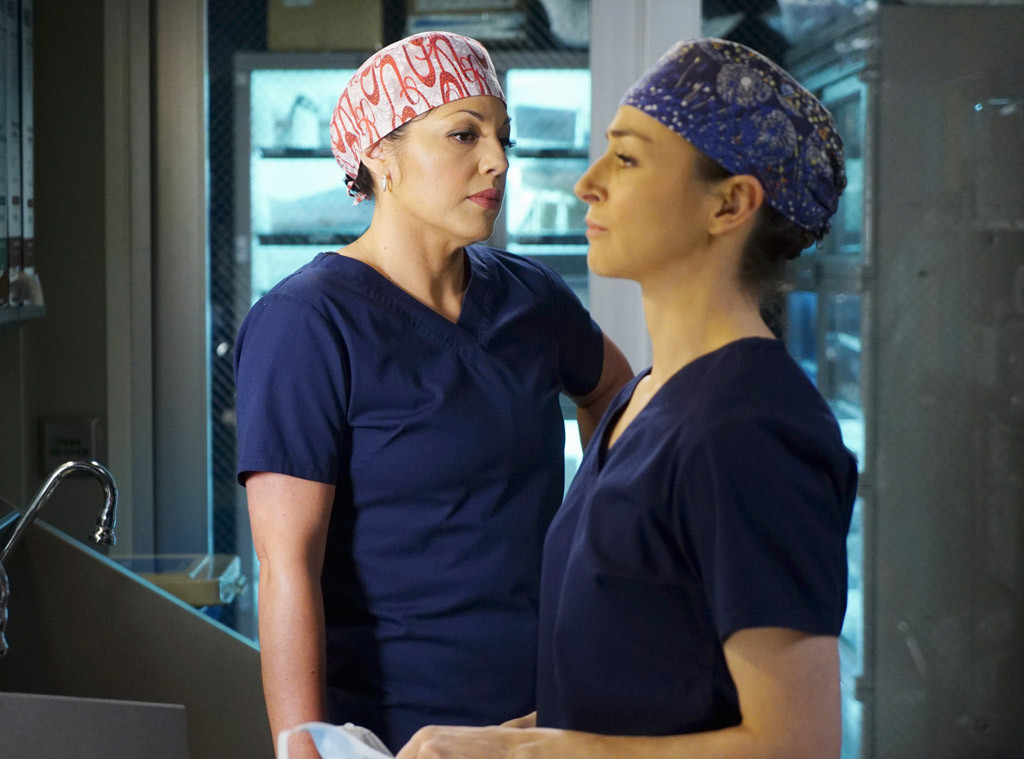 ABC/Richard Cartwright
Whenever "How To Save a Life" starts playing on Grey's Anatomy, that's when you know that it's about to get real.
In fact, we're pretty sure that song and "Chasing Cars" have played in every single episode since that one...you know, the now-infamous McDreamy (Patrick Dempsey) death episode that we will never get over. It's like Shonda Rhimes knows we said that she couldn't possibly make us cry anymore than we already have, laughed to herself and said, "Challenge accepted!" Then she gave us the last few episodes of season 11.
And oh man did she succeed. Tonight's finale felt like any other standard Grey's Anatomy midseason episode since no doctor was in any physical danger...up until the last five minutes, when she managed to slip in one scene that totally and completely wrecked us all over again.
Derek's final phone call to Meredith (Ellen Pompeo).
That's right, we finally got to hear exactly what he said in his voicemail to Meredith, the one he left for her while he was on the ferry heading to the airport to quit his job and return home to his family.
And since we need some moral support, we're going to leave that entire phone call transcript for you right here:
"Hey, it's me. I'm on the ferry. I just wanted to say, god, I wish you could see this," he says, smiling into his phone. "Weather's classic Seattle. The water is so blue. It may be the most perfect ferryboat ride I've ever had in my life. We're gonna do this a lot more when I get home, by the way, you, me, and the family. We're just gonna take a day and ride the ferryboat, all day if we want. I love you, Meredith. I know I just left, and I'm not even at the airport yet, but I just wanted to say I love you. I love our family. And we're gonna keep doing this. I'll see you when I get home. I love you."
Yup, here come the tears.
Those were the perfect last words, and because of that, they were the cruelest last words. Meredith's been keeping that voicemail saved on her phone for the past year, and she let Amelia (Caterina Scorsone) listen to it when she was feeling low. Turns out, that message was the closure Amelia needed to say goodbye to her brother, and possibly open her heart to Owen (Kevin McKidd) again.
As for Meredith, she's going to sell her home and move back into her mother's house that Alex (Justin Chambers) currently lives in with Jo (Camillia Luddington), and they're going to move out and buy a loft together to begin their life together. And Jo finally said "I love you" to Alex! These two deserve the happiest of endings.
Another happy couple by the end of the finale? Webber (James Pickens Jr.) and Catherine (Debbie Allen), who finally got married!
But not every couple made it out of season 11 unscathed. After April (Sarah Drew) realized she wants to go back to the army because she found her purpose in life again, Jackson (Jesse Williams) told her that if she goes, their relationship is over. He couldn't handle her absence, since he wasn't able to grieve with her, and she never even asked him about his life while she was gone. What will April choose? We'll find out next season, because why should our sorrows end so quickly?!
Now excuse us while we go cry into a carton of ice cream listening to 10 different versions of "How To Save a Life," because that's where our emotions are at right about now. Thanks, Shonda Rhimes!