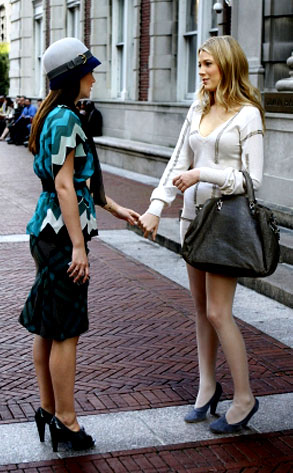 Giovanni Rufino / The CW
What better way to beat the Monday blues than with a little girl-on-girl action...and smacktion?
Rumors are flying that Gossip Girl's Serena (Blake Lively) and Blair (Leighton Meester) are hooking up, 90210's Kelly (Jennie Garth) and Brenda (Shannen Doherty) are breaking up (and clawing up?)...and what's this about Grey's Anatomy's Meredith (Ellen Pompeo) and Melissa George dabbling in a little same-sex somethin'-somethin', too?
Our weekly installment of all the juicy, inside TV dish you aren't supposed to know is right here (on shows like Grey's Anatomy, Heroes, One Tree Hill, Desperate Housewives and more) courtesy of your questions...
Magda in Los Angeles: There's a rumor going around again about Izzie being killed off at the end of this season of Grey's! Will there be no happily ever after for Alex and Izzie, aka the hottest couple on the show?