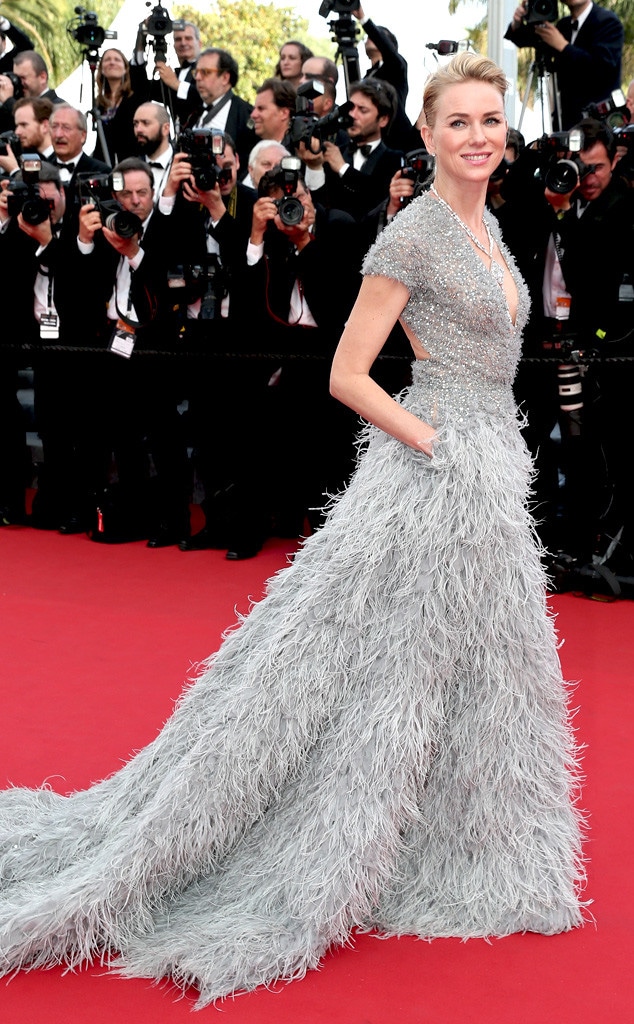 Gisela Schober/Getty Images
Attention, world! Stop what you're doing and pay attention because Naomi Watts just crushed the 2015 Cannes Film Festival red carpet.
The actress stepped out in a feathered, gunmetal-gray Elie Saab number that is so stunning, we literally handpicked it for our Oscars predictions roundup back in February (Julianne Moore didn't end up wearing the floor-sweeping frock, but at least someone did!). And Naomi really, really does the dress justice, complementing her look with swept-back locks and diamond jewelry. (That necklace is almost as blindingly blingy as the serpentine Bulgari stunner she wore to the 2015 Golden Globes).
Beyond the gasp-worthy red carpet moment, Watts also gave us a healthy dose of "aw!" too: The actress' stylist, Jeanann Williams, posted a sweet snap of Naomi letting her sons (blond cuties Kai, 7, and Sasha, 8) have a cuddle on the couture frock on Instagram earlier today. (Isn't that what feathered trains are for?!)
"And when her fluffers get tired," Williams wrote alongside the adorable pic.
Gisela Schober/Getty Images
And because we're just not over it yet: Here's another view for you to swoon over. Seriously, perfection.