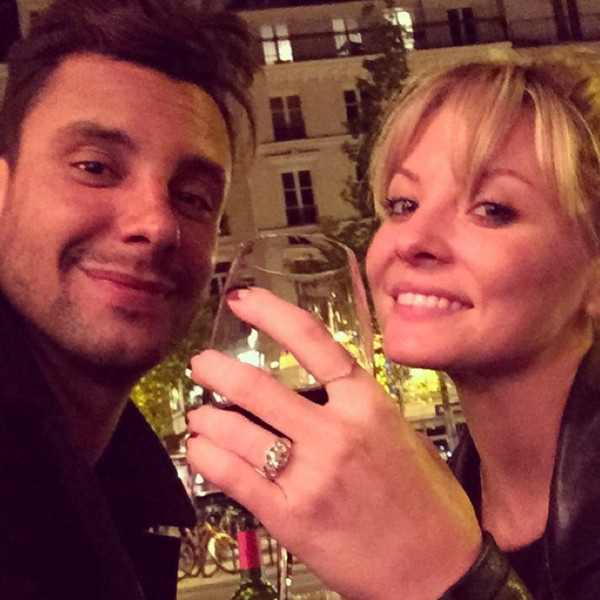 Instagram
Empire star Kaitlin Doubleday is off the market!
The 30-year-old actress, who plays Rhonda Lyon on this hit Fox series, recently got engaged to Devin Lucien in Paris. The bride-to-be and her future hubby both shared the happy news Tuesday, each posting selfies to Instagram that showed off Kaitlin's most impressive sparkler!
"Cheers!!!!!!!!" wrote Kaitlin. "To the most memorable night of my life thus far." Her fiancé cafe posted a similar shot, writing simply, "SHE SAID YES!!!!!"
Friends and fans were quick to congratulate the newly engaged couple. Even Kaitlin's onscreen hubby, Empire actor Trai Byers, wrote his well wishes in the comments:  "Yay!!!!!!!!!!!!!!!! Congratulations Devin and Kaitie!!!!!!! This is epic!!! Love y'all. Show em how it's done!! So happy for you guys!!!"
Gotta love a man who appreciates those exclamation points. Of course, it's hard not to love a man like Trai—just look at that bod! The 33-year-old hunk, along with his onscreen brothers Bryshere "Yazz" Gray and Jussie Smollett are featured in Essence's June 2015 issue (they each have their own cover, plus there's a version with all 3).
Inside the mag, Trai explains why it is he's in such good amazing shape. "I work out for two reasons: one, because I'm an actor," he says, "and two, because I'm somebody's [future] husband. I want to be prepared for the woman God has for me."
That'll be one lucky lady! We're glad, too, that Trai approves of his on-screen love and her real-life love. Congratulations again to Kaitlin and Devin!