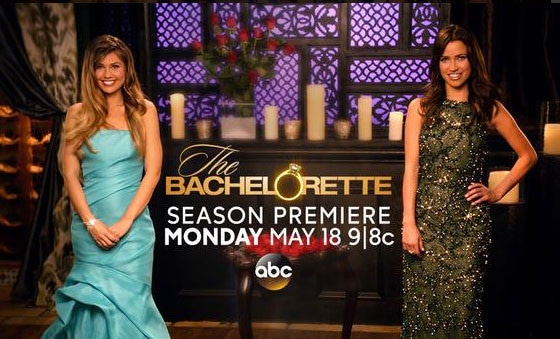 ABC/Twitter
Two people who are not at all offended by The Bachelorette's two Bachelorette twist? The two Bachelorettes!
After ABC announced that, for the first time ever, there would be two Bachelorettes, Britt Nilsson and Kaitlyn Bristowe, who appeared together on Chris Soules' season of The Bachelor, there was some backlash. OK, make that a lot of backlash. Even former Bachelor Sean Lowe called the twist "degrading" and "disgusting." Yikes. 
And now, just before the premiere on Monday, May 18, both ladies are finally weighing in on all the controversy surrounding their upcoming season, which will find the 25 men voting on who gets to continue on as the Bachelorette at the end of the first night.
"When they told me there was two, I didn't see it as degrading at all, because I don't think it had to do with us being women," Britt told reporters on a conference call. "I just thought that they couldn't decide, so there was two. I didn't see it as degrading, I honestly saw it as compliment, like we're both so great. I like Kaitlyn a lot, so being put on the same level as her...I get it and it's interesting. It's kind of more like how a real relationship would unfold...it didn't upset me. I read a lot of people saying that, but personally, I didn't really see it that way."
Kaitlyn also didn't see the new twist as "degrading," saying it was just a part of the craziness that is trying to find love on a reality show.
"I wouldn't have done it if I thought it was the most degrading thing in the world. I think with The Bachelor and The Bachelorette world, at what point do you say it's crazy to do that? I think it was just a little twist and turn they decided to do."
And Britt even said doing the show brought her and Kaitlyn closer together. "I think it made us better friends. We supported each other and bonded over the crazy things that were happening around us." 
Britt continued, "It was actually a little nice to have some support and I was glad it was Kaitlyn on the other side because just laughed a lot."
Kaitlyn added that they "expected it to be a lot more uncomfortable," but having Britt at her side on the first night "took the pressure off a little bit!"
The Bachelorette premieres Monday, May 18 at 9 p.m. on ABC.