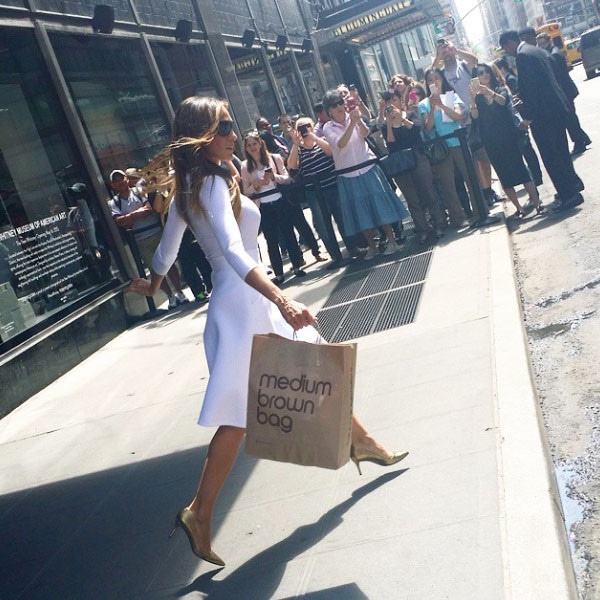 Instagram
Sarah Jessica Parker may have gotten carried away Monday.
The actress posted a picture of herself leaving Bloomingdale's department store on 59th Street in New York City. "Well. I guess the cat's out of the (little brown) bag. As usual, we will keep you posted on every detail as we are able," she teased in the Instagram caption. "I'm under strict gag order until then."
The picture of Parker looking chic in a white dress and gold heels, coupled with the coy caption, led many to wonder if the actress was announcing that Sex and the City 3 had started filming. However, Warner Bros. has not even confirmed that a third film is in development. "The post is not in relation to the Sex and the City property," the studio told E! News in a statement Monday.
What's more, Parker tagged her shoe line, SJP Collection, instead of her Sex and the City co-stars Kristin Davis, Kim Cattrall and Cynthia Nixon. The fashionista's shoe collection is currently available at Neiman Marcus, Nordstrom and Zappos Couture, but it's likely that it will soon be sold in Bloomingdale's stores. Several people also snapped photos of Parker posing on top of the Bloomingdale's sign on 59th Street.
This isn't the first time Parker has used Sex and the City to promote her SJP Collection shoe line. In October 2014, the actress Instagrammed a photo of herself sitting on her character Carrie Bradshaw's iconic stoop. "It was take your @sjpcollection shoes to work day. #longdayforCarrie," Parker wrote in the photo caption.
In November 2014, producer Michael Patrick King told E! News a third Sex and the City movie is not out of the question. "As far as Sex and the City goes, the mere fact that it is still so alive, and not just on the gym TV's, not just on the Precor, but that people are still wondering about these girls, you never know," he said. "It could come back at some point. All bets are off."