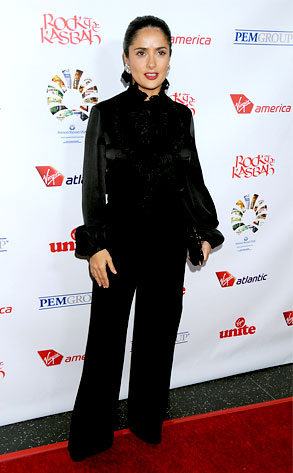 Gregg DeGuire/Getty Images
Halloween really is coming early this year—we've got Brooke Shields in catwear, Kate Bosworth dressing like a freeze-dried sci-fi femme and now Salma Hayek going goth.
Salmacita showed up to the Rock the Kasbah benefit in Hell-Ay looking as morbid as Morticia Addams—but nowhere near as vampy. We barely recognized S.H. without her breasts propped up right under her neck, just the way we (and a helluva lotta other horndogs) like 'em.
Why would the hot mama put her rack away? And more so, hide it with such a dreary, noir ensemble? This ain't the boob-tastic babe we know and love. Modesty is so not you, Senorita Hayek. We still think you're fab, but you're muy caliente with more colors and cleavage.
—Additional sass by Becky Bain