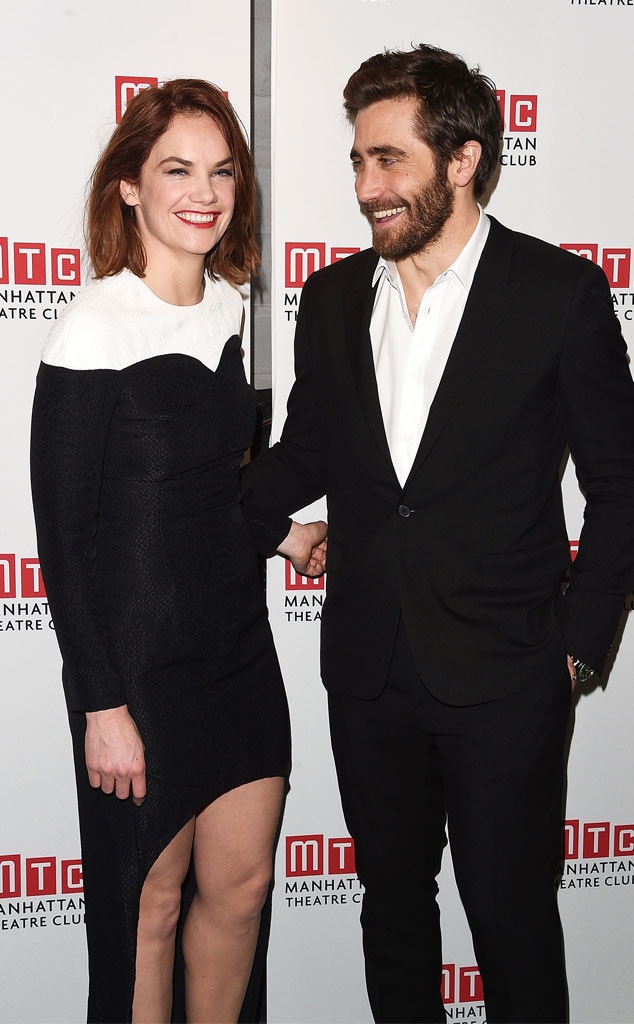 Andrew H. Walker/Getty Images
Jake Gyllenhaal and Ruth Wilson may have just confirmed they are dating!
The rumored couple and Broadway co-stars were caught kissing over the weekend, leading fans to believe all those pesky romance rumors are in fact true.
According to a source, the 34-year-old actor and the 33-year-old Affair star took the 10:20 a.m. class at Barry's Bootcamp in NYC on Saturday morning. "After the class, Jake lingered by the lobby area while he waited for her to shower and change," an eyewitness tells E! News of the duo. "Ruth and Jake left separately, but while he waited, he was chatting with the people she ended up leaving with. It's clear they have mutual friends. Jake was also very friendly to other people just coming out of the class. No diva behavior at all."
Elder Ordonez/INFphoto.com
"When Ruth came out, they kissed each other goodbye before parting ways," the insider adds. "It was more than a peck on the lips between friends. This was a kiss that said, 'We're Dating.'"
Ooh la la!
Wilson and Gyllenhaal have been the subjects of romance rumors since December when they were spotted with their arms around each other after a dinner date in NYC.
Back in January, Wilson laughed off the reports she's dating her Constellations co-star. "He's adorable, a really good guy," Wilson raved of Gyllenhaal. "We've become like brother and sister a little bit. We spend so much time together. We trust that even if we have a little [disagreement]—which is going to happen because we're in a tense environment that demands a lot from us—we'll make up and we'll be fine. I trust him implicitly."
—Reporting by Beth Sobol