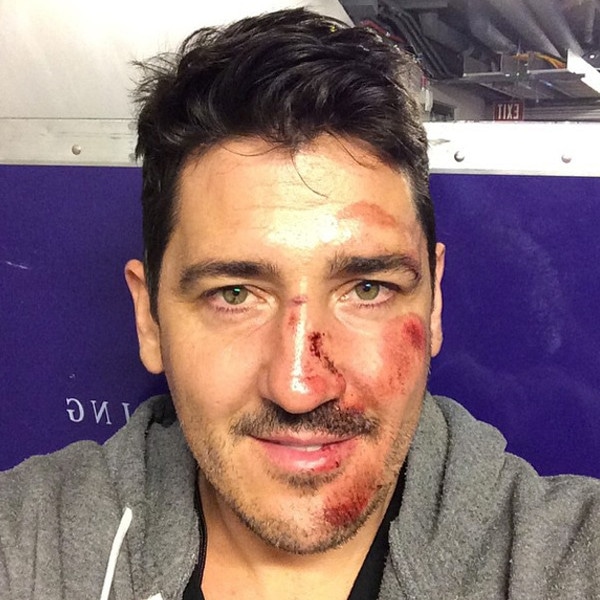 Instagram
Jonathan Knight is hangin' tough!
As the New Kids on the Block continue to travel across the country with TLC and Nelly for their summer tour, one boy band member suffered a serious bump in the road this weekend.
Turns out Knight "had an accident on the bus" that left him with a few serious injuries.
"Sorry I won't be on stage tonight," he shared on social media Saturday night. "Banged up my face badly, broke my nose and got a few stiches #FightClub."
And if you needed proof that this was one rough step, just look at the photo. "……Meanwhile backstage #NKOTB #MainEvent," Knight captioned while showing off his visibly scarred face.
Jason DeCrow/AP Images for Cottonelle
Luckily, the 46-year-old appeared to have a good sense of humor throughout the whole ordeal.
When The Amazing Race host Phil Keoghan told Knight to "break a leg" before his concert in Los Angeles, the singer responded, "How bout a nose?" 
With that same humor in mind, we can't help but also acknowledge a small moment from the tour where Knight may not have followed the choreography perfectly. 
In a clip taken at a recent show, the boys tried to dance their way through "Remix (I Like The)." Unfortunately, Knight took one turn the wrong way.
It's all good, though. These guys still have the right stuff!