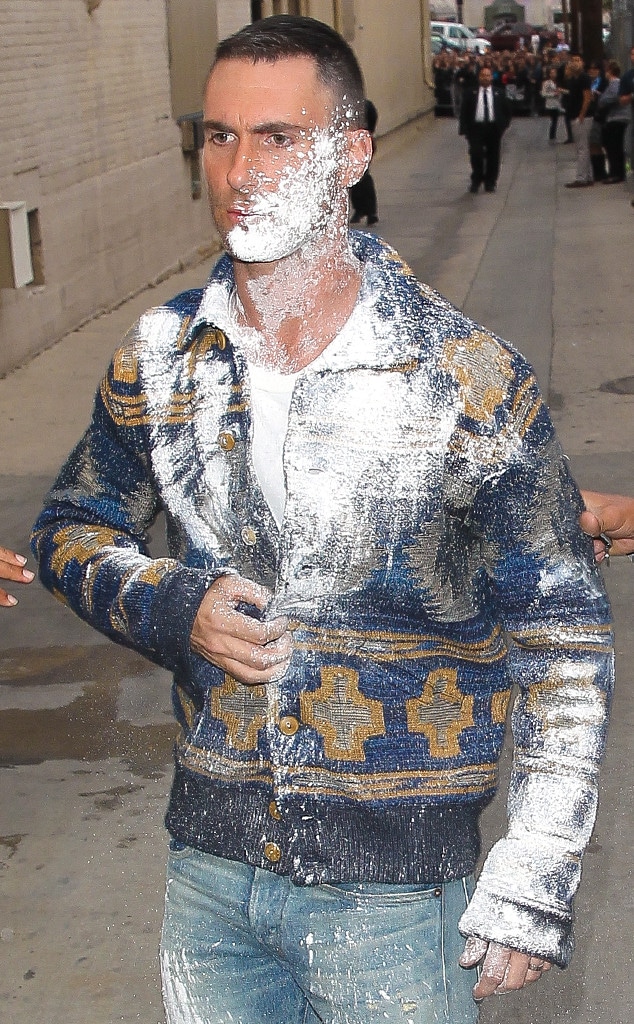 Roger/AKM-GSI
UPDATE: Navid Farsi pleaded no contest to one count of battery on May 8 and was sentenced to three years probation, 52 counseling sessions and 20 days of highway cleanup community service, per TMZ. He also must stay 500 yards away from Levine and Jimmy Kimmel Live's studio.
________________________________

UPDATE: The Los Angeles Police Department tells E! News that an arrest has been made: Navid Farsi was arrested under a private person's arrest for battery. Yesterday while Adam Levine was exiting the Jimmy Kimmel studio, Farsi threw powdered sugar at him, covering most of his upper body. He also hit several other people including some members of Levine's security team. Two plain clothed, off-duty officers conducted a private arrest. There were a total of 5 victims, and 1 suspect arrested.
Last week Farsi threw a rock at The Rock; however, he was not arrested but a report was made.
________________________________
Did Adam Levine just get way more "Sugar" than he ever wanted?
The Maroon 5 frontman and coach on The Voice was either unceremoniously flour-bombed or, according to some speculation on Twitter, caked with powdered sugar on his way out of Jimmy Kimmel Live in Hollywood tonight.
How rude!
There's always the possibility that the powdering had something to do with the show, but from the shocked-and-annoyed look on Levine's face and the security detail's reaction...
This is certainly looking like a random attack.
Hmm, does anyone know what Blake Shelton was up to tonight?
According to eyewitness accounts, Levine was signing autographs for his adoring fans when a guy tossed the bag of flour at him.
Alas, the star had already performed and was leaving, otherwise Kimmel would surely have made this conversation topic No. 1—and we can't wait to hear (or read) Levine's synopsis of what happened.
What was surely a scary moment for Levine can't help but call to mind Kim Kardashian getting flour-bombed outside the London Hotel in West Hollywood in March 2012.
"You have to laught it off!" Kim told E! News good-naturedly a few hours after the incident. "I brushed off and came right back out."