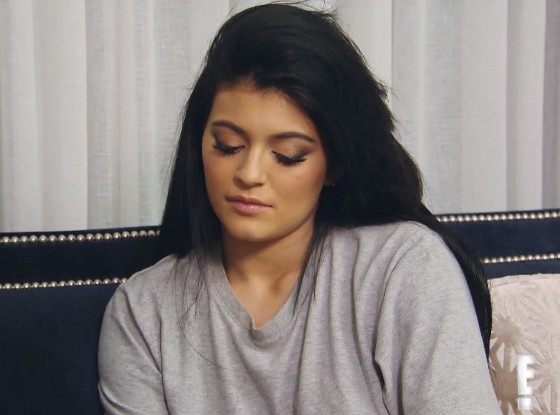 It's only true if it comes from Kylie Jenner's lips.
Well in that case, the Keeping Up With the Kardashians star has spoken and she has something to confess.
After much speculation, the 17-year-old will admit on Sunday's all-new episode that she has in fact enhanced her lips. "I have temporary lip fillers," she tells the cameras. "It's just an insecurity of mine and it's what I wanted to do."
As it turns out, she's certainly not the only star to get a little work done in the lip department. From musical superstars to memorable reality stars, take a look at more celebs whose lips don't lie.
Pascal Le Segretain/Getty Images
1. Lady Gaga: The "Born This Way" singer admitted to Howard Stern that she experienced a phase where she was "really obsessed with getting facial injections." Most troubling was the fact that she got her fillers at a strip mall. "We would drive to this strip mall and I would get shot up with a bunch of whatever, Juvéderm, and then leave," she shared. "Now all the stuff is gone."
2. Jennifer Hudson: Before taking on her critically acclaimed role in Dreamgirls, the American Idol alum admitted to tweaking her image via lip injections. "When I did Dreamgirls, I actually had to get my dent right here injected because it was affecting the lighting," she said on Oprah's Next Chapter. "And when I got it done the doctor was like 'I do not want to do this do you realize people come in here and pay to have the lips you have naturally.' And I was like, 'I don't want to but I have to for the movie!'"
3. Courtney Stodden: In addition to boob jobs and false eyelashes, the reality star admitted to receiving lip injections. While the procedure didn't hurt, "it was a little freaky to be honest," she told E! News. "I'm doing my own thing. I'm not ashamed of the way I look." 
Courtesy: Gilles Bensimon/Jessica Simpson
4. Jessica Simpson: Long before creating her billion dollar empire with the Jessica Simpson Collection, the actress and singer received some lip injections. "I had that Restylane stuff. It looked fake to me. I didn't like that. But it went away in, like, four months," she told Glamour back in 2006. "My lips are back to what they were. Thank God!"
Victor Hugo Garcia Moreno
5. Lisa Rinna: When co-hosting with Hoda Kotb on Today back in 2013, the Real Housewives of Beverly Hills star came clean about her lips. "Here's the story: 25 years ago, I had my lips injected with silicon. Stupid thing to do at 24," she shared. "I never had a career before I had the lips. So my lips have had their own career."
David Becker/Getty Images
6. Heidi Montag: At just 23 years old, The Hills alum underwent a head-to-toe transformation. In addition to botox, chin reductions and a nose job, the reality star also endured fat injections in her lips. "I love my body!" she said immediately after the surgery. "I still feel a little fragile, but I've never felt more beautiful and sexier."
Don't forget to watch new episodes of Keeping Up With the Kardashians Sunday nights at 9 p.m. only on E!