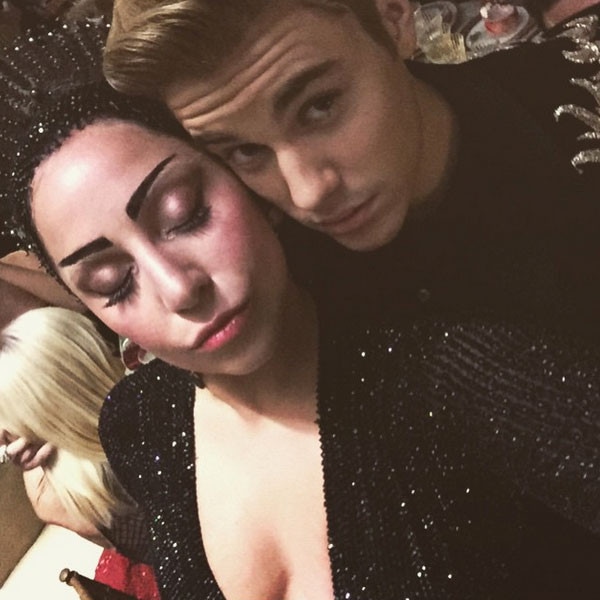 Instagram
Add Lady Gaga to the long of list of loyal Beliebers!
After walking the red carpet in Balenciaga Monday night at the 2015 Met Gala, the "Born This Way" singer mixed and mingled with a few famous faces. One of the special stars turned out to be the one and only Justin Bieber.
While co-hosting Simon Hammerstein's Queen of the Night, the Mother Monster chatted with the "Baby" singer. What came next was a special selfie with an even more important message.
"He really has a sweetness to him. He grew up in front of the whole world," she wrote on Instagram. "I reminded him to not get bothered. Because at the end of the day. He's the boss."
She added, "And life isn't always Roses. Lots of thorns."
Before Gaga decided to even post the Instagram, Bieber showed his appreciation for the Grammy nominee. In a short message, the 21-year-old captioned the same shot, "Me and the queen." Good thing he didn't get in trouble with that rumored no selfie rule at the Met Gala.
Speaking of trouble, the Biebs continues to stay out of it as he focuses on his new music. He also hopes his fans will move past the mistakes he made while growing up. 
"I hope people felt the sincerity in my apologies," he recently told Hero Magazine.  "There are a lot of things that have happened in the last couple years that I'm not very proud of, and I feel a responsibility to my fans and to the public who believe in me to make it right. I hope everyone believed it—because it was honest."
Safe to say Gaga is totally onboard for this comeback!