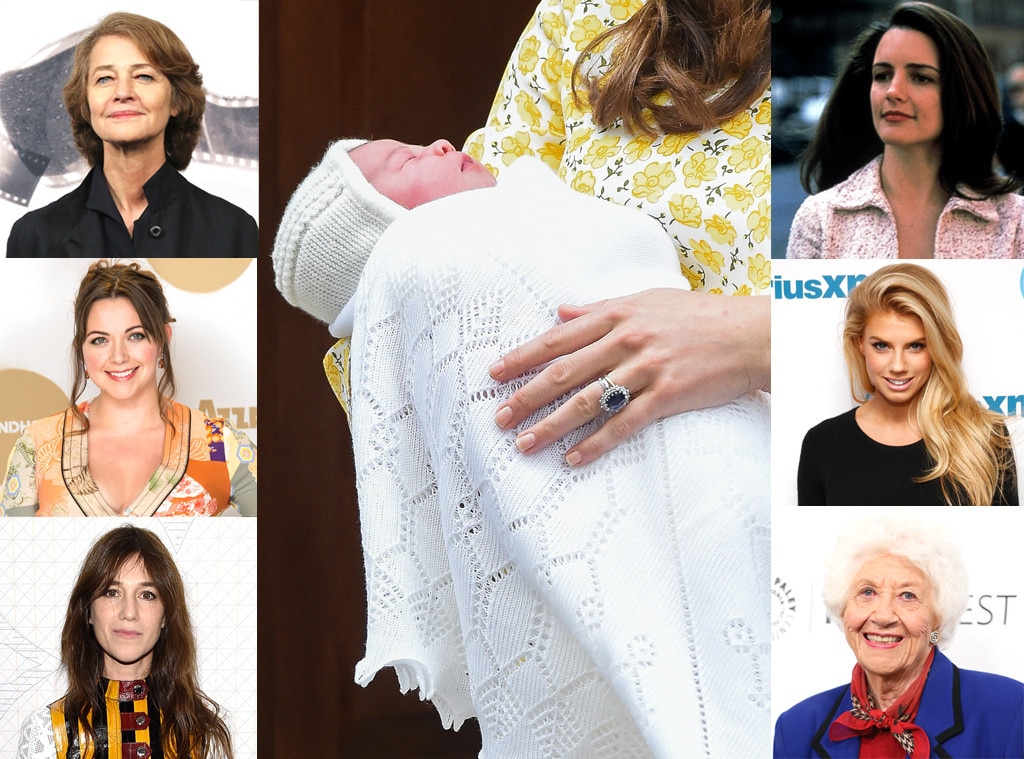 Getty Images
Kate Middleton and Prince William's new little girl has a royally adorable name if we do say so ourselves!
Earlier today the couple announced that they named royal baby No. 2 Princess Charlotte Elizabeth Diana. In addition to taking after her late grandmother Princess Diana and great grandma Queen Elizabeth II in the name department, baby Charlotte shares her first name with a bevy of other famous stars.
From Sex and the City's Charlotte York to model Charlotte McKinney, here are nine more famous faces who share a name with the new royal baby.
David Buchan/Getty Images
Charlotte McKinney, 23, model: McKinney is best known for flaunting her ample bosom (and so much more!) in that super-sexy Carl's Jr. Super Bowl commercial.
United Archives/ullstein bild via Getty Images
Charlotte from Sex and the City: Kristin Davis played this uptown gal known for being prim, proper and the epitome of classy in the hit HBO series.
Ron Asadorian / Splash News
Charlotte Clinton Mezvinsky, 7 months old, baby: Chelsea Clinton and husband Marc Mezvinsky welcomed their first child back in September. We can only imagine what kind of political career this famous tyke has in her future!
Charlotte Ronson, 37, fashion designer: the older sister of music producer Mark Ronson and deejay Samantha Ronson, this Charlotte graduated from NYU before starting her global fashion brand.
Charlotte Rae, 89, actress: Rae is best known for portraying the character of Edna Garrett in the sitcoms Diff'rent Strokes and The Facts of Life.
Larry Busacca/Getty Images
Charlotte Gainsbourg, 43, actress and singer: This indie actress is known for taking on dark, gritty roles. Her credits include Nymphomaniac, Melancholia, The Science of Sleep and I'm Not There.
Charlotte Ross, 47, actress: Ross rose to fame playing Eve Donovan on the soap opera Days of Our Lives from 1987 to 1991. She also had a recurring role on NYPD Blue from 2001 to 2004. Most recently, she played Dianna Agron's mom on Glee.
Ernesto Ruscio/Getty Images
Charlotte Rampling, 69, actress: This English actress has over 100 credits to her name!
Charlotte Church, 29, singer: Church broke onto the scene back in 1998 at the tender age of 12 with her debut album Voice of an Angel, which sold millions of albums making her the youngest artist in history with a No. 1 album on the British classical crossover charts.
Bonus: Charlotte's Web! Who could forget this lovable spider?