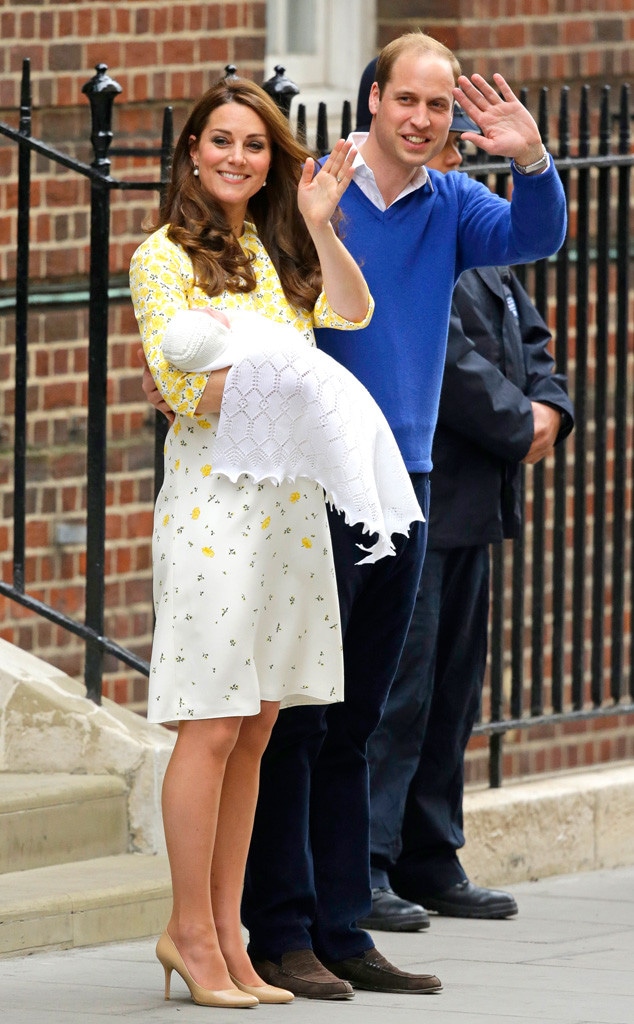 AP Photo/Matt Dunham
It's official: Prince William and Kate Middleton's little princess has a royally fabulous name.
A Kensington Palace spokesperson confirmed on Monday that the Duke and Duchess of Cambridge have named their daughter Charlotte Elizabeth Diana. Her official title is Her Royal Highness Princess Charlotte of Cambridge.
So, what's the meaning behind the wee one's moniker? Let's take a closer look at what we'll call the little princess. 
It is believed the name Charlotte is a nod to William's father Prince Charles (Charlotte is the female form of the name). Charlotte is also the middle name of Kate's sister Pippa Middleton as well as her mother Carole while Elizabeth is both Kate's middle name and a tribute to William's grandmother and the reigning queen, Queen Elizabeth II. 
"So Elizabeth was a given," Victoria Arbiter, CNN's royal commentator, tells E! News. "That was the only certainty with the name and it seems fitting to do that because the Queen will become Britain's longest serving monarch in British history in September, so what an appropriate time to do that. This is also the first female born into the Royal family to benefit from the changes in the laws to succession, so a great start there. It also happens to be the middle name that Kate and her mother Carol share, so again it pays tribute to both sides of the family. It is also the name of the Queen's mother." 
Moreover, the fourth in line to the throne's moniker honors William's late mother Princess Diana. The name Charlotte, which means petite and feminine, has also been used in England since the 17th century. 
"As for Diana, it was perfectly placed," Arbiter continued. "William has tried to include his mother in all the significant moments in his life...What I like about the placement of the name is it is included so as to pay tribute to Diana, but not to be a burden as she grows up. Already the British papers are saying 'this is our new Diana,' they are calling her the "People's Princess." It is a heavy burden to carry so by putting Diana as third it is paying tribute, it is including her, but it removes the sense of burden. It is brilliantly done."
Historically speaking, Queen Charlotte, born in 1744, was married to George III. While her given name was Sophie, she chose to use her middle name and her daughter, born in 1766, was also called Charlotte
"The name has a lot of family and historical reference," Arbiter added. "So Charlotte has royal pedigree and also it is the feminization of Charles name. This is a way for William to really pay tribute to his father who he does adore and really respects. This also happens to be Pippa Middleton's middle name, so both family are covered there. When you at the historical contexts, the wife of King George III was named Charlotte and she was the longest serving consort in British history after Prince Phillip. So I think Charlotte overall is a very positive name." 
With regards to a surname, it is rare that the royals will use a last name (for example Prince George is often referred to as Prince George of Cambridge). For day to day purposes, the U.K. Mirror reports that Charlotte will be known as Princess Charlotte of Cambridge, but if she does use a surname—particularly in the event of marriage—her last name will be styled as Mountbatten-Windsor. 
Princess Charlotte Elizabeth Diana was born on Saturday at 8:34 a.m. local time in the Lindo Wing at St. Mary's Hospital—the same location where the Duchess of Cambridge gave birth to Prince George in July 2013. 
—Additional reporting by Baker Machado
What do you think of the little princess' moniker? Tell us in the comments!