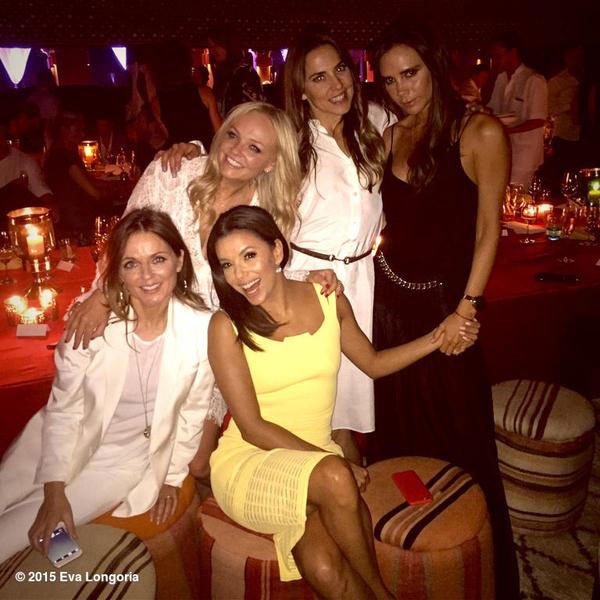 Eva Longoria/WhoSay
David Beckham's birthday is the gift that just keeps on giving!
First, there was the soccer stud's decision to finally join Instagram after all of these years. Then, there was the handsome selfie that proved turning 40 never looked so good.
Now, Victoria Beckham has managed to pull off what many have thought was impossible: She was able to reunite the Spice Girls!
While in Marrakesha, Morocco, Geri Halliwell, Melanie Chisholm and Emma Bunton joined Victoria for a special dinner in honor of David's big day. Heck, even Eva Longoria tagged along to become an honorary member.
"I'm the new Spice Girl!" she wrote on WhoSay while posing with the girls. "@victoriabeckham @emmabunton @MelanieCmusic @gerihalliwell." 
Apparently, she fit right in as she shared pictures of a female dancer balancing a plate of fire on her head. "Too much fun with Emma and Mel! #DB40," she wrote on WhoSay.
Mel B appeared to be unable to attend the trip as she gears up for a new season of America's Got Talent premiering this month. And no, her absence does not mean she isn't getting along with the ladies.
"We talk a lot and we text and we Facetime," she revealed to E! News just last month. "I was just Facetiming Geri the other day, she's about to get married so we're going to go over to England for her wedding." She also recently described the group as "one big, happy family."
While rumors continue to spread about a possible 20th anniversary reunion, Victoria and the ladies appear to simply be enjoying any time together that fits into all of their busy schedules.
"Special evening with family and friends," Victoria wrote while posing with the birthday boy after dinner. David replied, "Thanks to my beautiful wife for such an amazing day x"