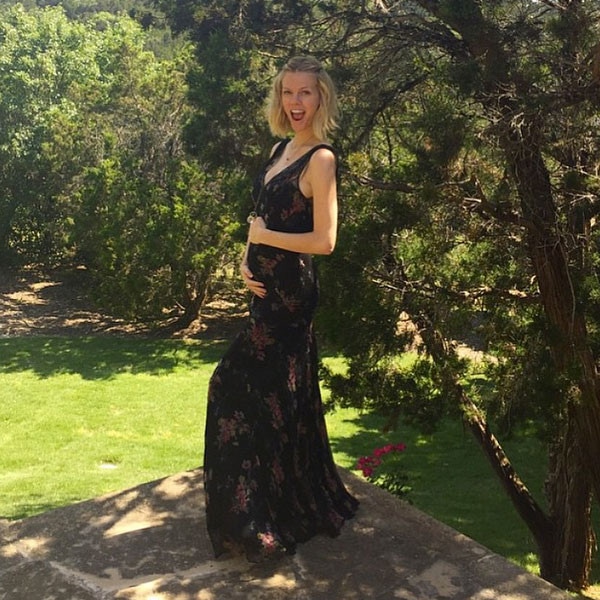 Instagram
Step aside, Kate Middleton! There's some more exciting baby news to announce! 
Brooklyn Decker had some family news to share on Instagram Saturday afternoon. Turns out the actress and model is expecting!
"So this happened... #the3ofus," she wrote on social media while debuting her baby bump in a black dress. Her rep also confirmed the news to E! News adding, "I'm happy to confirm Brooklyn and Andy are expecting a new addition to their family in the autumn of this year."
The baby will be the first child for Decker and Andy Roddick.
As soon as the news was announced, one of the couple's BFFs Chrissy Teigen shared her excitement over social media. "!!!!!!!!!!!!," she wrote after discovering Decker's announcement. We'll take that as an excited friend. 
The mom-to-be, who indeed plays a parent on the upcoming Netflix show Grace and Frankie, has been open about wanting to expand her family. And she doesn't just mean having more adorable bulldogs.
"I love kids. I definitely want kids," Decker told People last year. "I just have to figure out the timing of that." 
Courtesy: Michael Simon/startraksphoto.com
What she didn't have to figure out was whether or not Roddick was the guy for her to enjoy this journey to motherhood.
During a recent interview with Glamour, the actress expressed her love and support for the former tennis champion. 
"Is it cliched to say, 'You just know?' You just do. I think it's someone who is a good teammate," she told the publication. "You can have someone that you love, someone that you are super passionate about, and someone that is your perfect match, but that doesn't necessarily mean that they are a good teammate. Having someone to go to bat for you and with you is the biggest thing."
Congratulations to the couple on their exciting news!