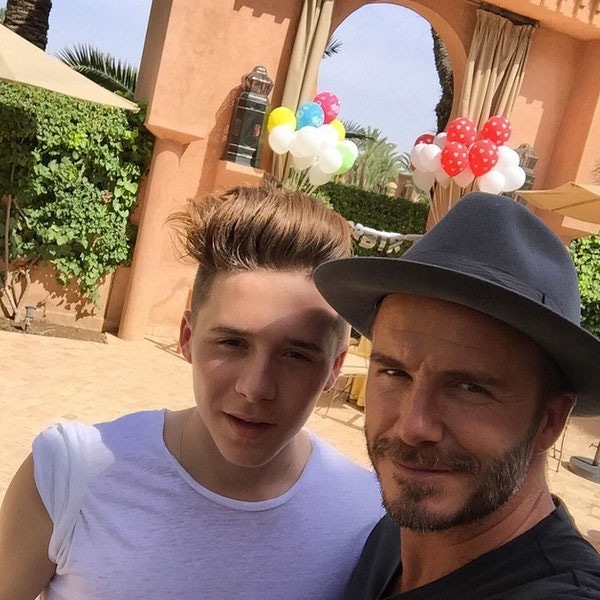 Instagram
Happy birthday, Becks, and welcome to Instagram!
David Beckham celebrated his 40th birthday with friends and family, including wife Victoria Beckham, 41, at a luxury resort in Marrakech, Morocco on Saturday and shared a slew of photos on his shiny new social media page. The happy fam traveled in style, via private jet.
The soccer stud shares a birthday with another famous Briton—the second royal baby! Kate Middleton and Prince William welcomed their little princess, sister of Prince George, early that morning in their native London.
Before the festivities began, David woke up like this.
"Good morning and hello! It's great to finally be on Instagram, been a long time coming but I can't wait to start sharing all my special moments with you," he wrote. "Thank you for all your birthday messages so far. Looking forward to a great day with friends and family x."
Very sweet message...and we must say we were momentarily distracted by the hotness that is David Beckham. Seriously, in this pic, he's starting right at us. OK, moving on.
He is also seen relaxing on a patio, sitting in front of two tables—one full of wrapped presents, and another decorated with tableware and party hats, with a bunch of colorful helium balloons and a "Happy birthday" banner displayed above.
"I feel very spoilt this morning! #DB40," he said.
But where's Victoria?
Oh, there she is.
David posed for a selfie with Victoria's 16-year old son, Brooklyn Beckham, who he called the "real boss of the family." The boy's mother has not yet commented about this statement.)
Brooklyn posted on his own Instagram page photos of himself with his dad.
He was also joined by his brothers, Romeo Beckham, 12, and Cruz Beckham, 10. David and Victoria's youngest of their four children, daughter Harper Beckham, 3, was not spotted in the pics.
"Reached 1 mil on my mums birthday and 2 mil on my dad's. Thank u guys so much #DB40," Brooklyn wrote.
David had hilariously made fun of his son when he announced the first social media milestone in an Instagram video. At the time, he had one social media account, on Facebook, which has more than 50 million likes.
And look who showed up! Surprise! It's Eva Longoria!
Other celebs invited to the party included Tom Cruise, Guy Ritchie and TV chef Gordon Ramsay, plus Liv Tyler and her partner Dave Gardner, a U.K. football agent who's friends with David. The couple was photographed arriving at the airport in Morocco.
All in all, looks like the family had one gorgeous and happy celebration.
And also, David had to go and completely melt our hearts with this one.
Happy birthday!