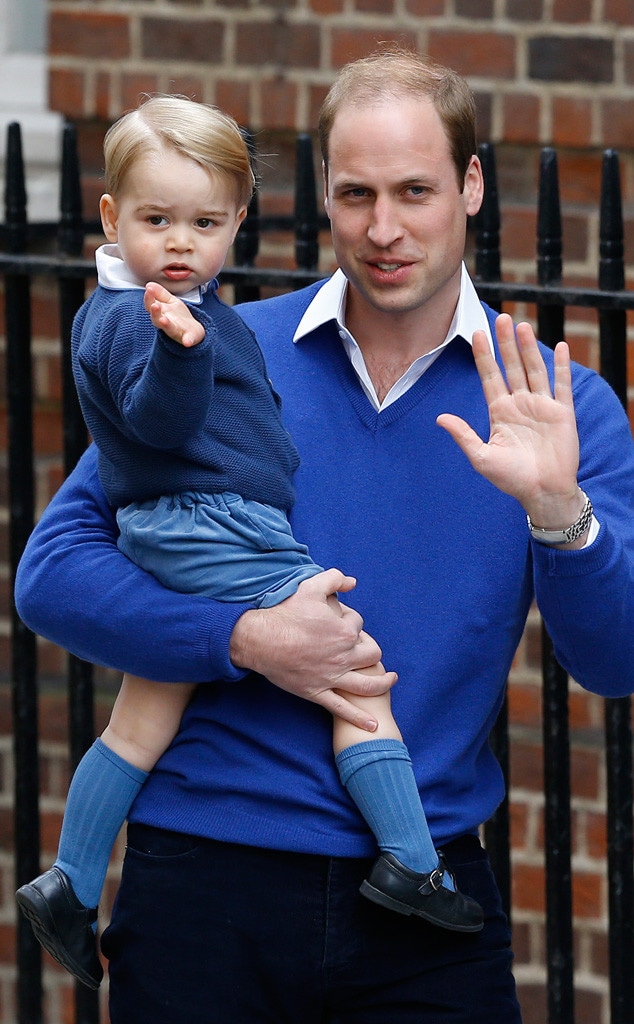 AP Photo/Kirsty Wigglesworth
Prince William on Saturday departed the hospital where wife Kate Middleton welcomed their second child, a baby girl, and returned with a very special guest—the princess' big brother Prince George!
Both dressed in blue sweaters, the 32-year-old Duke of Cambridge and the 1 and 1/2-year-old infant were seen making their way into St. Mary's Hospital in London hours after the Duchess gave birth, waving at the scores of excited fans who had flocked to the area in recent weeks in hopes of catching a glimpse of the royal family.
Under his jumper, George was adorably clad in a matching shirt-and-shorts set from Rachel Riley's Heritage collection. The white cotton shirt with blue piping and turn-up blue cord shorts, attachable with pearl effect buttons, retail for about $89 and come in sizes ranging from 6 months to 2 years old.
Chris Jackson/Getty Images, Rachel Riley
"We could not be happier that on this historic day, the birth of the first Royal Princess for a generation, that the Royal family should pick one of our designs to dress the Prince in as he makes his first visit to meet his new sister," brand founder Rachel Riley said in a statement.
"The Duchess of Cambridge is bringing a spotlight to traditional British clothes such as these simple classics, when children were dressed as children and not as mini-adults. We are delighted for them and wish Prince William, the Duchess of Cambridge and their young family our best wishes on this happy occasion."
NBC News posted this video of father and son during their visit:
Watch:
Prince William Takes Prince George to Meet His Sister
Georges De Keerle/Getty Images
Chris Jackson/Getty Images
He was also seen giving his son a kiss.
Fans erupted in cheers as William exited the hospital to collect George.
"How's your daughter? How's she doing?" a woman in the crowd yelled to him, according to NBC News.
"I am very happy, thank you," William responded.
"I'm going to pick up George," he had said as he stepped into the driver's seat of a black Range Rover, while a man got in on the front passenger's side, as seen in a video posted on the royal couple's Instagram page.
Palace officials had announced beforehand that William was set to leave the medical center to visit their son back at home in Kensington Palace, sparking speculation he would bring him to see his mother and new sister.
This marked the first time Prince George has been seen in public in about four months. In December, Kensington Palace released three official photos of the child.
The couple has not revealed the name of their new baby, who is the fourth in line to the British throne.
Palace officials have not announced when Kate and her and William's new baby are set to leave the hospital.
If you love all things royal, watch The Royals on E! on Sundays at 10/9c!