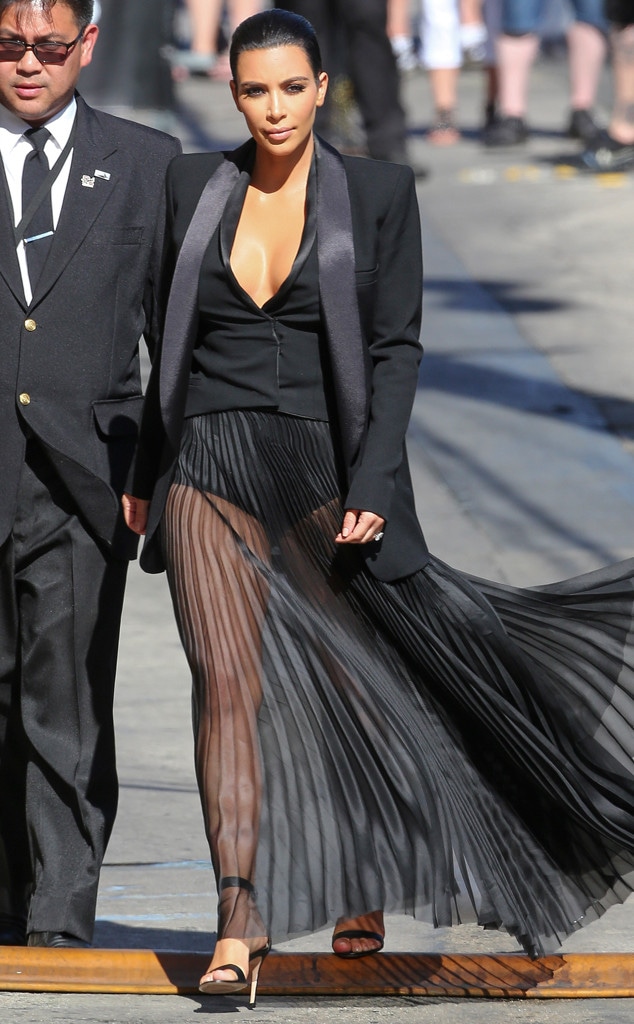 AKM-GSI
It's hard to know where to look first.
Kim Kardashian headed out this afternoon for her first appearance on Jimmy Kimmel Live since last August in a look that can only be described as half-tuxedo, half Fosse bombshell, and all Kim.
Seriously, is there going to be an impromptu performance of "All That Jazz" later? All that's missing is a bowler hat...
The E! star wore a plunging black vest over nothing but skin up top, paired with either a bodysuit or hipster-cut shorts under a flowing see-through skirt, which showed off her shapely legs up to there. A satin-trimmed tuxedo jacket completed the dramatic look.
Surely we'll get all the fashion credits later.
But the getting-ready process apparently went perfectly smoothly, unlike the time her Dior dress broke right before she was about to leave for The Ellen DeGeneres Show and she took to Instagram to try on multiple substitute looks before finally settling on one of her signature skintight ensembles.
While light-hearted banter will probably be the theme for most of Kim's sit-down, Kimmel does have a plethora of topics to choose from once she's in the hot seat. Be it Bruce Jenner's life-changing interview, daughter North West's upcoming second birthday, Kanye West's all-around mastery of the universe, or the latest with pick-a-family-member-any-family-member, 15 minutes just won't be enough to pack it all in.
Since Kimmel can't cover it all, don't miss the next new episode of Keeping Up With the Kardashians, Sunday at 9 p.m. on E!