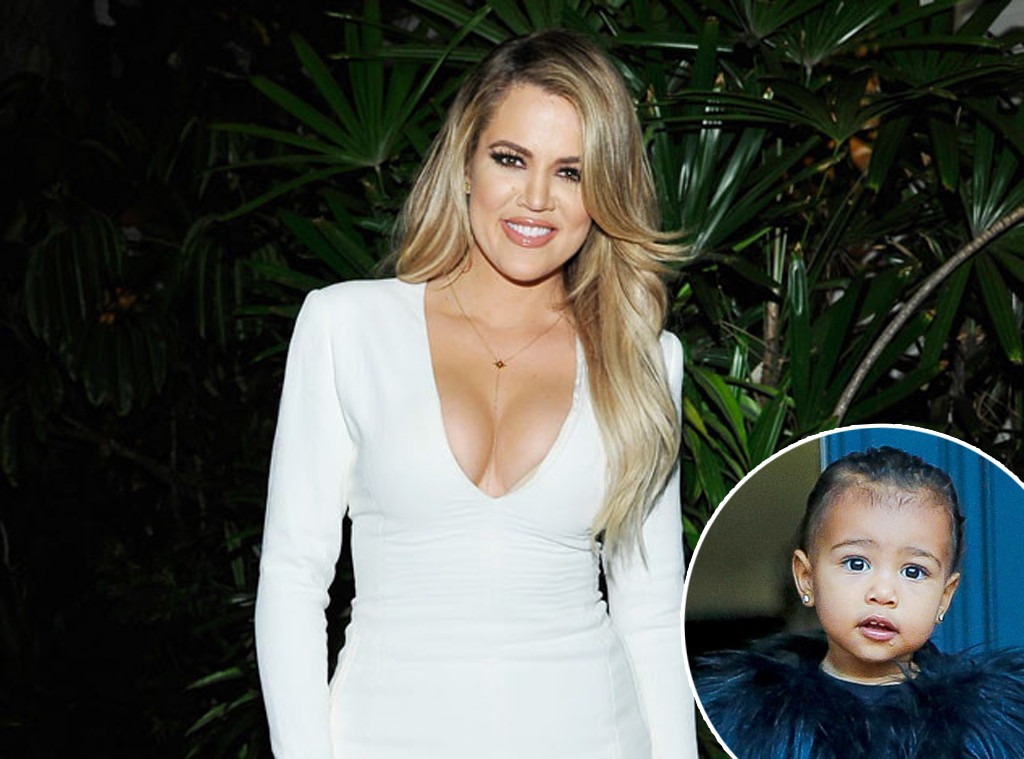 John Sciulli/Getty Images; AKM-GSI
It was pretty clear that North West was going to be a budding fashionista since the day she entered our world.
The celebuspawn of Kim Kardashian and Kanye West has already graced us with quite the ensemble choices, rocking designer names and adorable pieces since the second she crawled out of a onesie. And it looks like this soon-to-be 2-year-old already knows what she likes and what she doesn't like, and won't budge.
Even if it's auntie Khloé Kardashian that's trying to influence her style.
When asked if she's had funny moments with North and Penelope Disick and their styles recently during an interview with Refinery29, the E! star shared a funny story about just how different these two little cousins are when it comes to their wardrobe, and the one color Nori is just not a fan of.
"They go to ballet class together all the time, and P's always really girly, while North is normally in an all black outfit. Kim [Kardashian] recently put North in an all pink leotard and tutu, and she texted me and was like, 'Look, I put North in pink just for you!' North didn't like it — North wanted a black tutu," she said.
"And, I just thought it was hysterical, because I was saying [to Kim], 'Put the girl in some damn pink for a second!' And, she's like, 'I did it for you, and she didn't like it! I know my daughter's personality.' I find that so cute. North is going to be 2 in June, and she already knows what she wants. It's hysterical."
WCP/Javiles/4CRNS/FAMEFLYNET
Her budding fashionistas, including Mason Disick, are the tiny tots that help inspire the Kardashians Kids line.
"Well, I think the style is more based off of Penelope, North, and Mason, to be honest with you, and how they're fashionistas in their own right. We definitely use them as inspiration, and the collection speaks to their personalities," she explains.
"The boys line, especially, is very much all about Mason and his friends. When he's with his friends, and they're playing a game, it's so cute to look at how they're dressed and how they put things together. It's hysterical how kids have their own personalities, even at like 3 or 4. And, it's funny what they tend to like; Penelope likes to dress herself, for example, and what she's drawn to is totally different than what North is drawn to. And, they're not even 3 years old yet! It's so entertaining to watch that."
Speaking of kids, Khloé looks forward to the future when she has little ones of her own, and hopes that she's a fun mom.
"Everyone says that when you have kids, you become crazy [laughs], so I don't know what I'm going to be. But, I'm a really fun aunt, so I hope I'm going to be a fun mom! I like to have fun and be silly and not take myself too seriously with the kids, so I hope that will translate when I actually have my own."
Until then, the 30-year-old is busy running the family businesses and enjoying her time with friends. But you won't be catching her spending summers in the Hamptons again.
"I don't want to. No, that was way too much for me. I will return—it's a great place to go for a weekend or so, but three months is not fun. There's nothing to f--king do out there." LOL!
Don't forget to watch Keeping Up With the Kardashians every Sunday at 9 p.m., only on E!