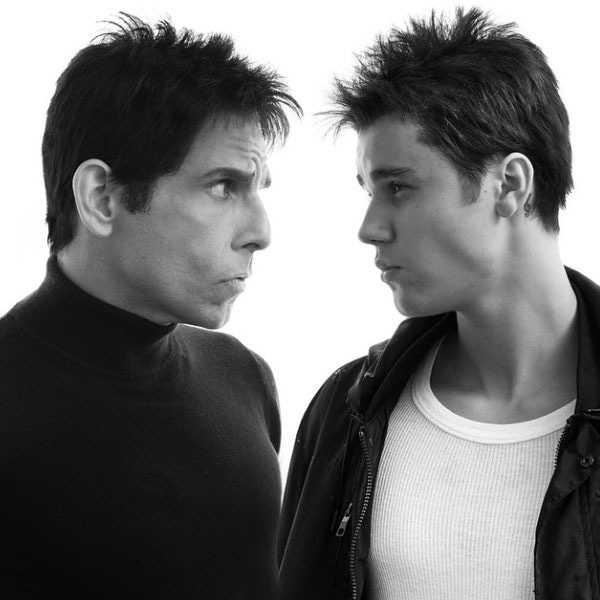 Instagram
It was the Instagram heard 'round the world! Ben Stiller himself announced via the social media site that none other than Justin Bieber was joining the cast of the much-hyped Zoolander 2. And he did it by posting a photo of the two Blue Steel-ing each other, of course.
There are understandably mixed reactions to this addition to the flick, but it's clear that the Biebs is dead set on inserting himself into every last inch of pop culture, so we may as well just roll with it. In this vein we decided to get on board with his new role and even do a little brainstorming for the movie.
Now Justin Bieber may be new to acting, but he's certainly not new to acting crazy. Which, let's be honest, is half of what's involved in the plot of any Zoolander film. No details have been leaked about what Bieber's part might entail, but he's got plenty of experience that would help him do pretty much anything he might be asked to—especially when it comes to striking a ridiculous pose or acting out a range of emotions.
Ahead, 10 moves he could bust out for the movie.
1. Looking confused—very confused.
3. Self-congratulation. It's important to keep your spirits up on a movie set.
4. Pretending not to remember. Or shall we say "not remembering."
5. The point-n'-pose. Useful if Bieber is asked to, say, point at things.
6. Licking of the lips. This could mean either "I'm thirsty" or "I'm sexy." Depth!
7. Disgust—for the cameras, or the Craft Services guys when they try to serve him non-organic chicken on his kale salad.
8. The hair toss that needs no explanation. Movie script modeling contract here he comes!
9. The ability to stay calm while groped by hundreds of hands is integral to any aspiring actor's resumé.
10. The running man/moonwalk hybrid, for the inevitable runway dance-off.