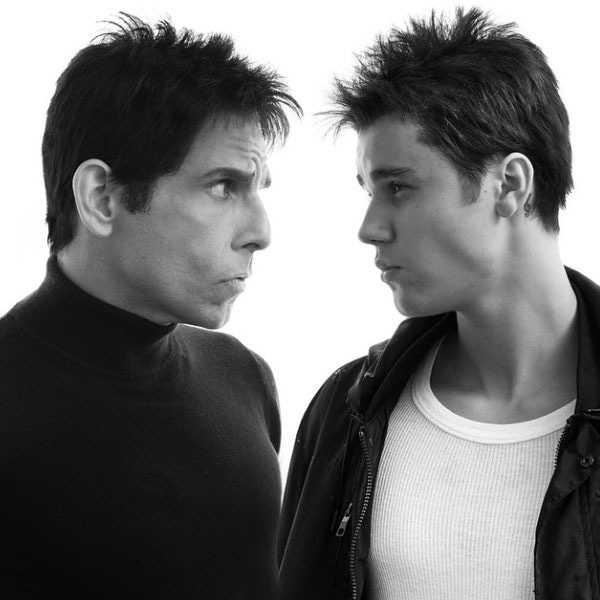 Instagram
The Zoolander 2 cast keeps getting bigger!
Ben Stiller confirmed that Justin Bieber will make a cameo in the long-awaited sequel. The actor, who reprises his role as male model Derek Zoolander, did his best "blue steel" during a pose-off with the pop star on Instagram Tuesday. Stiller didn't provide further context, writing, " #Zoolander2 @justinbieber."
Bieber gave fans a tiny bit more, writing, "#itsawignotmynewhair."
Rumors of the pop star's casting started swirling on Sunday, when Bieber flew from L.A. to Rome. The singer fanned the flames himself on Facebook Monday, writing, "Working on something big right now in Europe...He is so hot right now."
Might Bieber have a future in film?
"He's definitely interested in movies and starting a film career," a source says.
Will Ferrell, Christine Taylor and Owen Wilson are also reprising their roles from 2001's Zoolander. In recent weeks, Stiller used Instagram to announce that Fred Armisen, Penélope Cruz, Kyle Mooney and Billy Zane joined the cast, and the actor-director also introduced the young actor who is playing his son. Kristen Wiig will also appear in the comedy, though Stiller has not publicly announced her participation. As E! News exclusively reported in March, Karlie Kloss make a cameo. Other models on the short list to appear in the film include Alessandra Ambrosio, Naomi Campbell, Cara Delevingne and Jourdan Dunn.
Only Karl Lagerfeld has publicly turned down the sequel: "I didn't like it," the fashion designer told Hello! Canada. "I'm not an actor."
Stiller and Wilson announced the sequel in an epic fashion. Dressed in character, they made a surprise appearance at the Valentino show during Paris Fashion Week.
"It was kind of surreal. It was sort of exciting," Stiller later told E! News. "I mean, we've never done anything like that before, to be in an actual fashion show."
"That was kind of intimidating. You don't want to trip. You want to get to the end. It's like Green Mile. It's really like that. There's no electric chair at the end. There's just starving models waiting for you, but it's definitely an intense experience."
Zoolander 2 arrives in theaters Feb. 12, 2016.