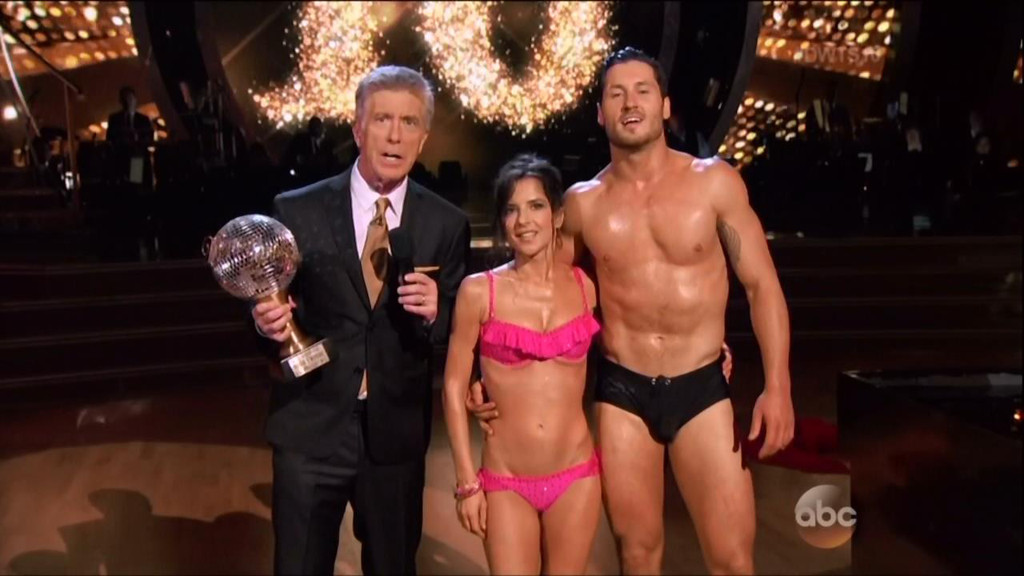 ABC
Well how fun was that?
There were holograms. There was near-nudity. There were mullets! And, most important of all, there was dancing on Dancing with the Stars' 10th anniversary special. Of course, it was only the best that the show had to offer so there were no duds to make fun of/make us feel better about our own lackluster dancing ability, but a few were still better and/or less weird than others.
Thus, without further ado, we present our ranking of all the best and worst performances!
11. The Football dance: Kurt Warner, Jacoby Jones, Michael Irvin, Donald Driver, Hines Ward, Jerry Rice, Emmitt Smith
Could have been epic, but they were all out of sync and also we were giggling at the fact that this dance was football themed.
10. Opening number
It was fine, but kind of awkward and super packed with a lot of awkward arm-waving. Not epic enough for us!
9. Melissa Rycroft and Tony Dovolani
Forgettable performance but Melissa looks damn good!
8. Kelly Monaco and Val Chmerkovskiy
Were they dancing? Is that what was happening here? We were a bit distracted by Val's speedo and Kelly's barely-there bottoms. Val kept going on about how it was cold in there but we saw no signs of that as the two original DWTS winners took the stage for some sort of odd nearly naked paso doble-ing.
7. Alfonso Ribeiro and Witney Carson
Last season's winners continue to thrill us, though this simple little number didn't hold a candle to what else we already know they can do. We got a hologram of the Carlton, but not the real thing?! Lame!
6. The closing number
Our favorite part of this step-clap-spin routine (aside from the fact that everyone and their mother took part in it) was that Carrie Ann Inaba was totally off rhythm. And also that this is a dance we could actually do with a couple weeks of rehearsal.
5. Len Goodman as a banana
Why? Who knows. What we do know is that few can rock banana yellow as well as Len "Good 'ole Banana Man" Goodman.
4. Mark Ballas and Derek Hough/Sasha Farber's "Uptown Funk" with Kristi Yamaguchi, Amy Purdy, Maria Menounos and more
One of our faves and full of a bunch of our fave dancers, though we're calling shenanigans on the costume change that happened when Amber Riley walked out. Nobody can take off shiny leggings that fast!
3. Meryl Davis and Maks Chmerkovskiy
Ugh, we had forgotten how much fun it was to watch these two dance. Meryl is like a beautiful alien angel, sent from the heavens to float across our dance floors and also our ice rinks.
2. Patti Labelle, Lil Kim and Amber Riley singing "Lady Marmalade"
They didn't do much dancing but they did a lot of slaying in the singing/rapping department so it's all good.
1. Maks Chmerkovskiy in his audition video
The white shirt? The matching white hat? The twirl?! The outfit and the dance move paired with his complete confidence in the fact that everyone would want to look at him because he's so damn handsome propelled this to our performance of the night.
Just look at him: