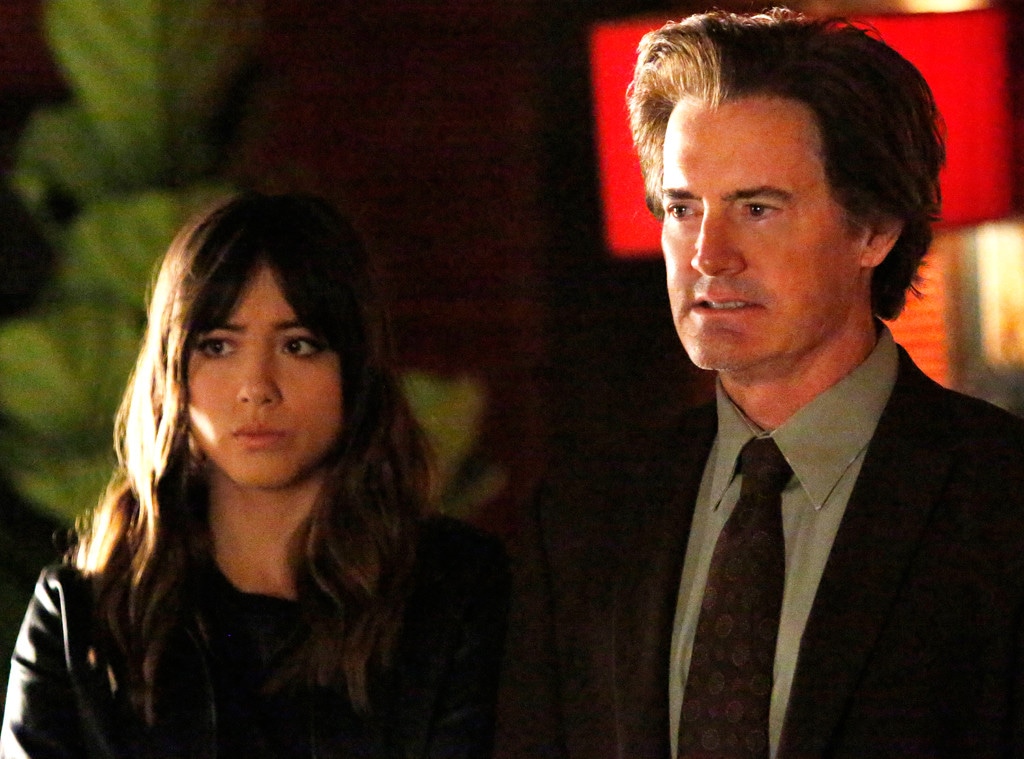 ABC/Kelsey McNeal
Things are about to really heat up on Marvel's Agents of S.H.I.E.L.D.!
We're less than a week away from Avengers: Age of Ultron's theatrical release, and as any Marvel fan knows, the events of the movie are going to shake up everything for the characters on the ABC TV series.
Just look at how last year's Captain America: The Winter Soldier completely changed everything about S.H.I.E.L.D. at its very core, having Hydra take out the very organization that the show was named after! While this year's major movie event won't have quite as devastating results for the show, it will definitely make a huge impact.
And it's going to start as early as tonight!
"The Dirty Half Dozen," airing tonight, is going to introduce the beginning of the story that is going to develop in the Avengers sequel, and while Coulson (Clark Gregg) may be the first person to utter the word "Avengers" during the episode, and there's even a major Avengers cameo in the final moments, the biggest moment is actually going to come from a surprising source. 
Hint: she's an Inhuman, covered in thorns and might possibly be able to see the future. 
But that's not the only epic moment in tonight's episode, since the original team from the early season one days of S.H.I.E.L.D. are finally back together! That's right, after bringing Ward (Brett Dalton) back on the team as a last resort to get an "in" with Hydra, Coulson manages to put his team back together for an op. You think seeing Ward working alongside Coulson, Fitz (Iain de Caestecker), Simmons (Elizabeth Henstridge) and May (Ming-Na Wen) is weird? Just wait until Skye (Chloe Bennet) gets Gordon (Jamie Harris) to teleport her back onto the Bus to join up with the crew! Awkward.
Everything won't be all fun and games though, since the crew is back together only because of dire circumstances: they need to save their friends Deathlok (J. August Richards) and Lincoln (Luke Mitchell) from Hydra before they're experimented on and tortured to death. But is the fate waiting for them back at the "real" S.H.I.E.L.D. any better? Questionable.
On a happier note, we can reveal that there is hope for the former BFFs Mack (Henry Simmons) and Hunter (Nick Blood). Even though Mack attacked and kidnapped Hunter before the "real" S.H.I.E.L.D. revealed themselves, Hunter will lay out his terms for forgiveness. Spoiler alert: it involves a lot of beer.
On a less happier note, if you thought the way Simmons viewed Skye after her transformation was chilling, you haven't seen anything yet. Her plans for Ward are just. Plain. Cold.
And in the final five minutes, fans will also finally find out what exactly Coulson's "theta protocol" is...and it's going to have major ramifications for everyone if he isn't able to pull it off in time. 
Marvel's Agents of S.H.I.E.L.D. airs Tuesdays at 9 p.m. on ABC.