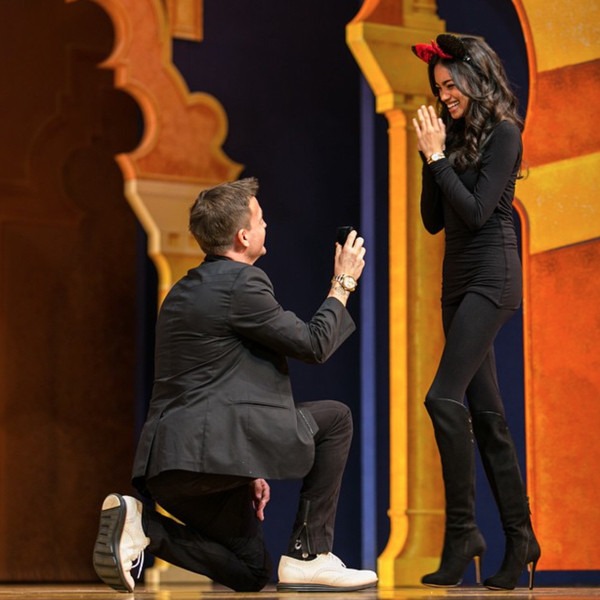 Twitter
Rob Dyrdek may have pulled off one of the best proposals ever!
The 40-year-old MTV star got engaged to his girlfriend Bryiana Noelle Flores over the weekend. The whole thing was a big surprise that Dyrdek organized during a stage production of Aladdin at Disneyland. Dyrdek took to Instagram after popping the question to chronicle the whole elaborate stunt.
In one pic, Dyrdek rides in on a giant elephant. "I always try to be the best boyfriend I can be. @bryiana_noelle really wanted to go see the Aladdin Show at Disney and I of course made it happen. There was a bit of a twist half way through the show that she never expected. I told her I had to use the restroom and slipped out. When the parade of animals rolled through the audience as usual in the Aladdin Show it was her boyfriend atop the elephant and not Prince Ali," Dyrdek explained.
Dyrdek then took his lady on stage to get down on one knee. He posted several adorable PDA pics of him and Flores embracing.
"I am truly humbled by our love. It is truly a divine creation. @bryiana_noelle you are the love of my life and my true destiny," he wrote on Instagram. "The day I met you I knew I would spend the rest of my life with you. What our relationship has actually become is million times better then I knew was even possible. My dreams and your dreams are our dreams. I love you more than words could ever describe and can't wait for you to be my wife."
Dyrdek later thanked the workers at Disneyland by tweeting, "Thank you @Disney and all the cast and crew of the Aladdin show for making this happen for us! #WishGranted."
Dyrdek also showed off his fiancée's gigantic diamond engagement ring. "No better way to celebrate then enjoying the beautiful crystal blue waters of the Caribbean," he wrote.
Congrats, you two!