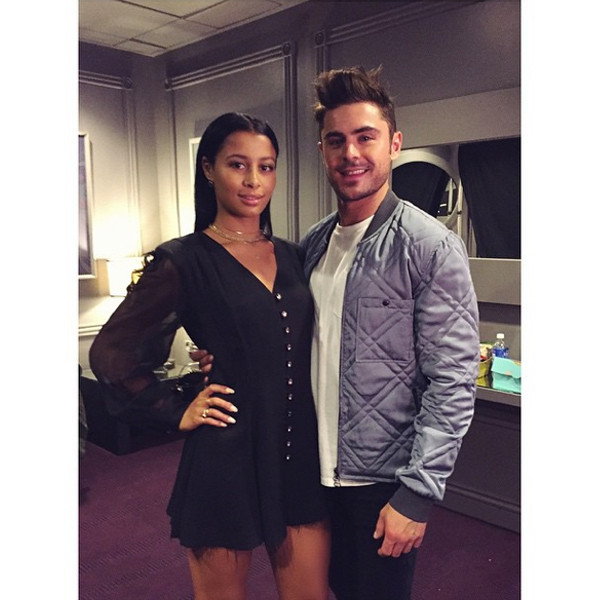 Instagram
Now this is karaoke night done right!
Zac Efron decided to kick off his weekend a bit early Thursday evening when he traveled to Blind Dragon in West Hollywood, Calif.  
But instead of grabbing some food at the hotspot and leaving, the Neighbors star decided to also partake in a little singing.
E! News has learned Efron arrived a little after 11 p.m. local time and headed straight to the club's private karaoke room. With a mic in his hand, the High School Musical alum busted out some classic songs including Sugar Ray's "Fly" and "All Star" by Smash Mouth.
But what about "We're All In This Together," Zac?!
Efron's great mood only increased when girlfriend Sami Miró showed up a little after 1 a.m. In between singing and dancing to reggae music, the two managed to display some serious PDA.
"They were lovey all night, kissing, holding hands," an eyewitness shared with E! News. "He seemed to be in really good spirits."
The relatively private couple, who recently enjoyed a trip to the 2015 MTV Movie Awards together, has tried to keep their relationship on the down-low. But when you're main man is Mr. Efron, you learn privacy can be a bit tricky.
"I've never spoken about us before, but, um, it's definitely different," Miró recently told Elle.com when asked about her high-profile romance. "I think that you have to take that with a grain of salt, and put yourself in other people's positions."
She added, "I think that's actually a really big part of it, putting yourself in their shoes, and trying to understand where they're coming from, and then it kinds of makes sense."
—Reporting by Baker Machado