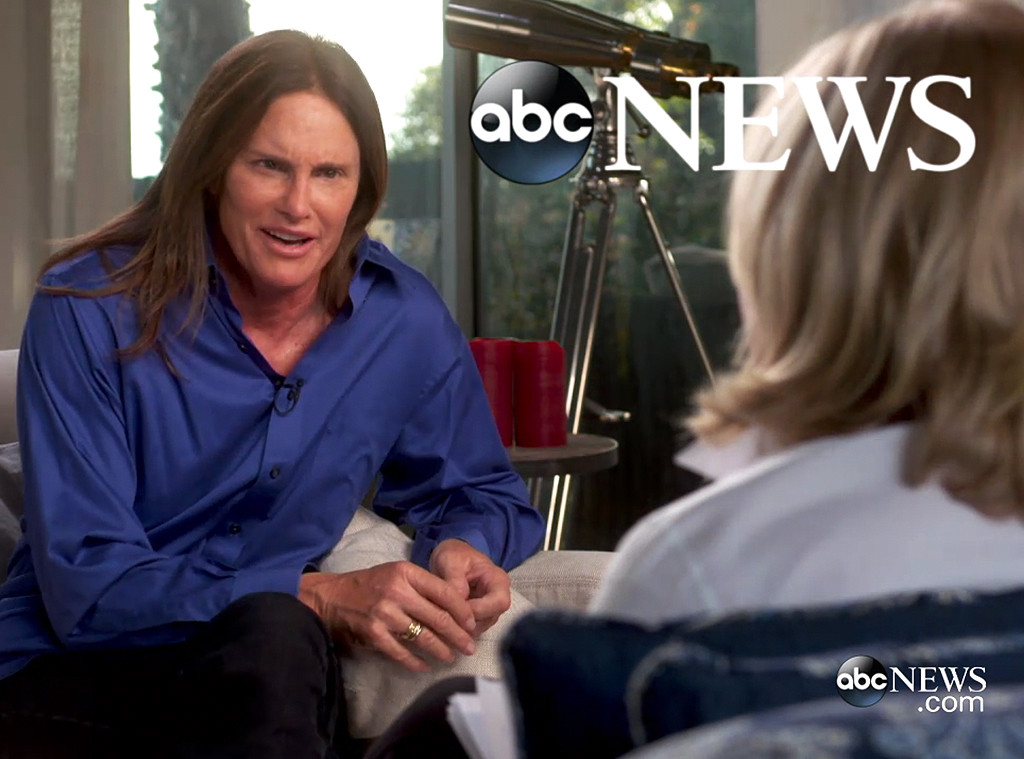 ABC
Bruce Jenner revealed a lot tonight.
During his highly anticipated sit-down interview with Diane Sawyer, the 65-year-old Olympian opened up about transitioning into a woman. ''Yes, for all intents and purposes I am a woman," Jenner said. "People look at me differently. They see you as this 'macho male,' but my heart and my soul and everything I do in life, it is part  of me, that female side is part of me. It's who I am. I was not genetically born that way."
(At this time, Bruce Jenner has not chosen to publicly identify as a woman and so E! News will continue to refer to him as Bruce and use male pronouns, until he indicates otherwise.)
But that was within the first 30 minutes of the 2-hour special, so yes, Bruce had much more to say.
Here is everything we learned from his emotional and candid interview.
He Felt Like He's Been Living a Lie: "I'm not stuck in anybody's body. I'm me...Bruce: always telling a lie. He's lived a lie his whole life about who he is. And I can't do that any longer."
The First Person He Told: "It was [first wife] Chrystie [Scott]...Most women think 'Oh, I can fix that.' Most women think that. I never really hardcore say, 'Look I don't know if I'm going to make it in this male gender here my entire life.'"
He's Heterosexual: "I was never was attracted to the guys..the sexuality was totally different from what I'm dealing with...I'm not gay. As far as I know, I'm heterosexual. I've never been with a guy."
His Mom's Response: "'Oh my gosh, is it my fault?' And I said, 'You didn't cause this! It's just the way I am, the way I was born, and it's going to be OK."
He Started Transitioning in the '80s: "I would walk off the stage and I would feel like a liar. and i would literally go up to my room and change clothes and walk around [as a woman]."
He Kept It a Secret While Filming Keeping Up With the Kardashians: "We've done 425 episodes, I think, over almost eight years now. And the entire run I kept thinking to myself, 'Oh my god!' This whole thing, the one real true story in the family was the one I was hiding and nobody knew about it. The one thing that could really make a difference in people's lives was right here in my soul..."
He Contemplated Suicide: "That night, I thought, it's, like, over. I was in this hall right here walking up and down, back and forth all night long... heart pounding. And I thought, wouldn't the easiest thing be right now—and I can see where people get to that—just go in the room, I've got a gun, and boom—pain's over, it's done, you know, go to a better place. And I thought I can't do something like that. I mean, I wanna know how this story ends."
If Kris Was More Understanding, the Marriage Might Have Lasted: "We'd probably still be together."
He Was Worried About the Kids: "Those are the only ones I'm concerned with. I can't let myself hurt them. How do I do this? How do I do this and not hurt my children? I tried to explain to them that as much of your upbringing was 'her' as much as it was the he-side."
Kim Has Been the Most Accepting...Thanks to Kanye: "He says to Kim, 'Look, I can be married to the most beautiful woman in the world, and I am...but I'm nothing if I can't be me. If I can't be true to myself.'...And since then, Kimberly has by far been the most accepting and the easiest to talk to about it."
Khloé Is Having a Tough Time: "She's very emotional. She's had the toughest time with it. Because she's had a lot of losses in her life. She lost her father at a young age. He died suddenly, cancer. You know, Lamar [Odom] had his issues."
He's Not Rushing to Get the Surgery: "You do face, breasts, you know, all that kind of stuff. There are certainly some physical changes to it, but it's mostly mentally. It just kinda takes the edge off...At this point, SRS-sexual reassignment surgery-will be down the line."
He's Not Sure If He'll End Up With a Man or Woman: "I'm so far down the road. It's the last thing in the world...I can't figure that side of it out. I just want to have a free soul and a lot of great friends. I understand your question. I don't...let's go with a-sexual. For now. I'm gonna learn a lot in the next year."
His Feminine Side Is Not a Kardashian: "No, no. She's definitely a Jenner. Very chic, classy, black little outfit [shows a little black dress to Diane Sawyer]."
He's Looking Forward to the Simple Things: "To be able to have my nail polish on long enough so that it chips off."
He Wants People to Stay Open Minded: "Have an open mind and an open heart. I'm not this bad person. I'm just doing what I have to do."
He's Looking Forward to the Future: "If it's only this, I'll be OK. I've got my health. I've got my children. I got family. I got seven grandkids now. I'm actually really excited about the future, about what I could do...I feel like I'm going to be okay. 2015 is gonna be quite a ride."