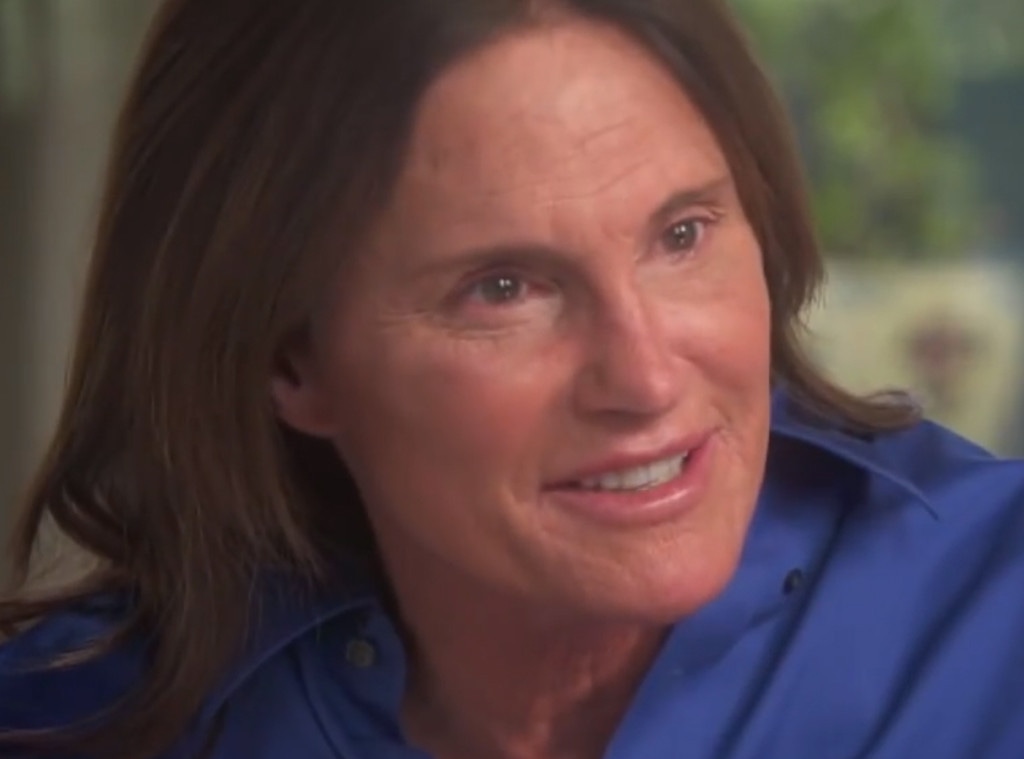 ABC
Bruce Jenner has gone public.
The 65-year-old Olympic gold medalist and parent of six is transitioning into a woman and has now opened up for the first time about the journey.
(At this time, Bruce Jenner has not chosen to publicly identify as a woman and so E! News will continue to refer to him as Bruce and use male pronouns, until he indicates otherwise.)
"Shall I take my ponytail out? Yeah, why not, huh?" Jenner literally and symbolically let his hair down as he built up to his big moment opposite ABC News' Diane Sawyer in the hotly anticipated interview special, Bruce Jenner: The Interview, that aired tonight. "We're talking about all this stuff. Yeah, let's take the damn ponytail out."
He smiled.
''Yes, for all intents and purposes I am a woman," Jenner said. "People look at me differently. They see you as this 'macho male,' but my heart and my soul and everything I do in life, it is part  of me, that female side is part of me. It's who I am. I was not genetically born that way."
"As of now, I have all the male parts and all that kind of stuff, so in a lot of ways we're different, OK? But we still identify as female," Jenner continued. "And that's very hard for Bruce Jenner to say. 'Cause why? I don't want to disappoint people."
The months-in-the-making interview was conducted in parts at Jenner's home in Malibu and at various locations in New York.
"I've been thinking about this day forever and what I should do with my life, how do I tell my story," an emotional Jenner began, fighting tears. "It's been really tough. But here I am, I'm still here. That's the good news."
After Jenner's separation and subsequent divorce from Keeping Up With the Kardashians star Kris Jenner, changes in the decathlete's physical appearance started to make headlines, as speculation over a seemingly visible transformation became the subject of widespread fascination and analysis. Up until now, Jenner had not engaged in the public speculation over the personal matter.
"My brain is much more female than it is male," Jenner says.
"I think he is going to have a tremendous impact on popular culture," sportscaster and former Olympian Dwight Stones, a medalist in the high jump (one of the 10 events Jenner conquered as the 1976 Decathlon winner), told the New York Times in February. "The parents of kids who are suppressing this, or trying to find a way to reveal themselves to the people they care about, are going to know who Bruce Jenner is. That might smooth the way or make the reality a little less difficult."
Hailed as the "World's Greatest Athlete" after winning the Decathlon at the 1976 Summer Olympics in Montreal, Jenner was famously front and center on one of the most memorable Wheaties boxes of all time and became a spokesperson for the iconic General Mills cereal, one of only a handful of athletes featured on the cereal box to do so.
Jenner became a fixture on the motivational-speech circuit and parlayed his love of airplanes into Bruce Jenner Aviation, a corporate-aircraft supply company. Also a longtime auto-racing enthusiast, Jenner drove competitively in the 1980s.
International fame of course opened a few doors in Hollywood as well, and Jenner made appearances on TV in CHiPs, Silver Spoons and Murder, She Wrote,  and starred in the cult-classic kitsch fest Can't Stop the Music with the Village People. Before winning a new generation of fans on Keeping Up With the Kardashians, Jenner competed on the 2003 installment of I'm a Celebrity…Get Me Out of Here and paired with world champion figure skater Tai Babilonia on Skating With Celebrities.
A throwback clip of Jenner competing on Celebrity Family Feud with Kris Jenner and Kim, Kourtney and Khloé Kardashian also recently made the rounds again, retro awesomeness intact.
In a preview clip for the Sawyer interview, Jenner expressed concern for the Kardashian-Jenner family, saying "Those are the only ones I'm concerned with. I can't let myself hurt them."
Jenner is parent to daughter Casey and son Burt with first wife Chrystie Crownover, sons Brandon and Brody with second wife Linda Thompson; and daughters Kendall and Kylie with Kris Jenner.
Throughout Jenner's own personal journey, Jenner has continued on as the voice of reason amid the Keeping Up With the Kardashians drama, dispensing parental wisdom as always.
"Moms and daughters at this age can sometimes be very difficult," Jenner reminded youngest kid Kylie, 17, on a recent episode of the show when she confessed that she was frankly over trying to talk to her mom about life. "If you ever want to talk about any of that stuff," Bruce added, raising a hand as a volunteer, "duh, right here. If there's anything I can do to cheer you up or keep you on a positive note… Here I am."
Learn more about what it means to be transgender at http://glaad.org/transgender
If you are transgender and need help or advice, contact the Trevor Project http://t.co/guMjyYIfng