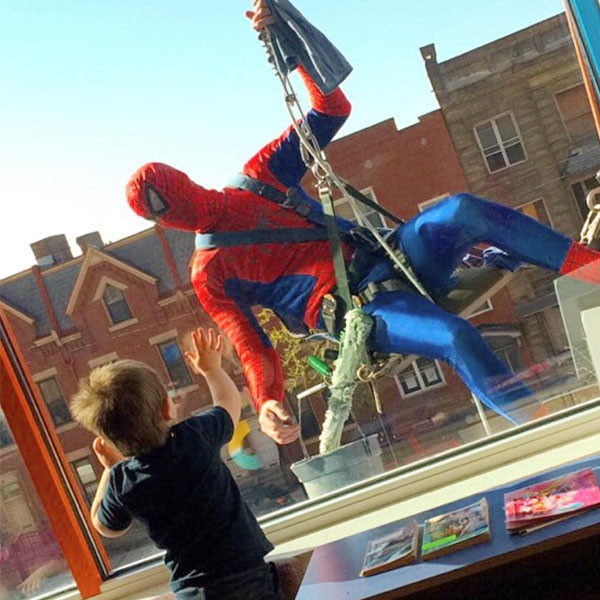 Twitter
Kids at Children's Hospital of Pittsburgh received a sweet superhero surprise on Friday.
Rappelling down their windows were Spider-Man, Batman, Captain America and Superman. Or rather, window washers dressed as the Marvel and D.C. comics superheroes.
"Saying hello to Spider-Man! #childrenspgh," read a tweet posted on the medical center's Twitter page, alongside a photo of his window washer doppelganger hanging from a harness outside and looking in at a little boy peering right back at him, hands against the glass.
Other window-washers have dressed up like superheroes at the same medical center as well as at other children's hospitals over the past few years.
"It makes me feel great," window washer Edward Hetrick, who dressed up as Superman and had also taken part in a Superhero Day at Children's Hospital of Pittsburgh in 2014, 2013 and 2012, told WPXI-TV on Friday.
"There's a lot of kids in here that are going through problems or just some that are coming to get checkups," he added. "So it's making their day, so maybe when they go back into the room, they're not thinking about getting checked out by the doctor, they're still thinikng about us outside and having a great day. I am happy to do that. That makes me feel good too, as a person."