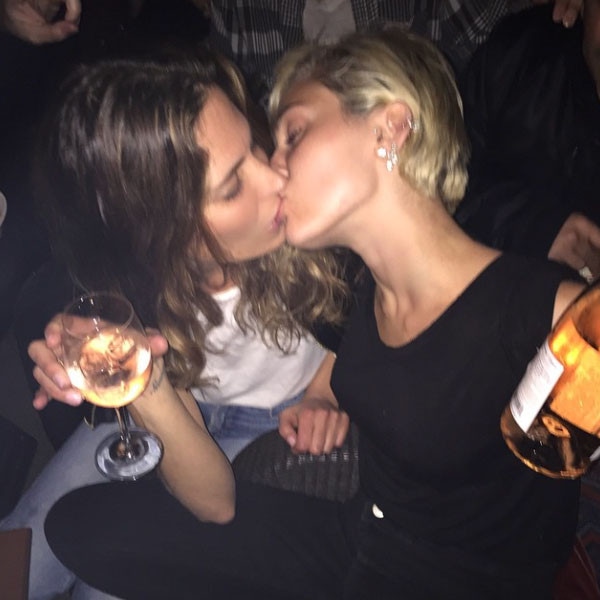 Instagram
It wasn't just a break, after all.
Miley Cyrus and Patrick Schwarzenegger have called it quits for good, sources confirm to E! News. The six-month relationship hit a serious rough patch after Patrick was caught getting a little handsy with his ex-girlfriend while they were on spring break, and it seems the high-profile couple couldn't overcome it even though they were spotted on several dates thereafter.
Unfortunately, it just wasn't enough, but it seems that Miley is holding it together!
"Miley is totally fine," a source tells E! News exclusively. "She's definitely moving on. He was very young and that soured the relationship."
And it looks like the "We Can't Stop" singer is really moving on, as she was caught kissing not one, but two people in Las Vegas Thursday night! Attending a celeb-filled, "secret party," Miley cozied up to gal-pal Frankie Rayder, whom she embraced for a very passionate kiss (documented on Instagram, of course, by fashion photographers Mert & Marcus).
"KISS night @mileycyrus @frankierayder #secretparty #la #mertandmarcus," the picture was captioned.
Paris Hilton, Cara Delevingne and Joan Smalls also attend the wild party with Cyrus, with the photographers making sure to document the "Wrecking Ball" singer's antics with the whole crew! She and Cara got cozy with a stuffed animal while appearing fairly disheveled, but the real jaw-dropped photo is the pic of Miley smooching a mystery man!
"L O V E @mileycyrus," Mert & Marcus captioned the pic.
It looks like Miley must be really moving on with her life with all of this kissing! Before this party the Hannah Montana alum was spotted out and about in a black sports bra, flaunting her toned tummy and abs, as she made her way to a workout in Studio City, Calif. This breakup isn't keeping her down!
But before news of the breakup broke, Patrick enjoyed weekend one of Coachella without Miley while Miley enjoyed a little getaway to northern California with her bestie Cheyne Thomas. Maybe distance didn't make the heart grow fonder. Patrick always denied any funnybusiness, and a source told us that he wasn't coping well after the pictures surfaced.
"He doesn't even know what to do with himself and just wants to hide from the world," a source told us at the time. "He's had some of his friends around for support, but he's very down and upset. He hasn't cracked a smile or been able to think about anything except Miley. He's so embarrassed and knows he screwed up."